These unique, artisan pieces are designed for you to get your daily dose of spirituality! From colorful to delicate, from fashion to fine, from simple to statement - this incredible assortment of necklaces has something for all levels of cross wearing comfort.
Donning iconography has long been a way of carrying spirituality with us every day. It serves as a reminder of sacred devotion and thoughtful service and it inspires us to live a life that is centered in morality and kindness. Each of these pieces encourages you to do just that!
This unique Kathy Bransfield piece features a pendant composed of two separate pieces that lay one on top of the other. The top, gold, round pendant is stamped with a cross and decorative dots, while the silver piece below features the quote, "With God all things are possible..." The pendant is designed to open like a book to reveal the quote underneath. The two-tone metals (gold and silver) make it an eye-catching and versatile piece, with an interesting silver bar link chain completing the look. This piece is crafted by a small mom & pop artist company that creates truly beautiful pieces that celebrate all the important things, moments, and people in life.
VSA Designs has perfected the art of statement Magdalena's and visually stunning wearable, historical iconography. Despite being considered a statement piece, this 4 strand necklace is elegant, with dainty pearls and feminine, sparkling crystals. It is tremendously versatile, both when it comes to occasion and length variation; you can easily dress it up or down depending on outfit formality, and it can also be worn short or long, with available extenders to lengthen it further. It is also available in a wide variety of colors and finishes, for instance in all silver as you can see here.
Patricia Locke's Bysantine Cross Necklace is an artsy, colorful take on the classic cross iconography. Patricia is a truly beloved and celebrated jewelry designer and all her pieces are handmade in America. As is true of most of Patricia's pieces, this cross is available in all kinds of color stories from the bold variant here to soft pastels or diamond crystals making them suitable for all sorts of taste levels. This exact piece in this same color story is also available in gold, making a similarly stunning statement for those who prefer warmer metal tones.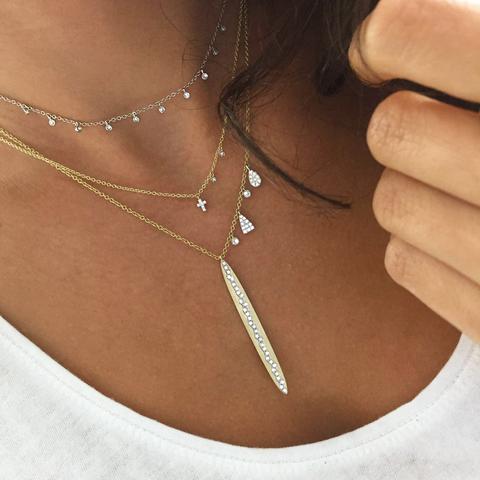 Meira T holds the cornerstone of delicate, fine jewelry that you can quite literally throw on and never take off. This piece features two tiny solitaire pendants in Meira's signature asymmetric design, and a central Diamond encrusted cross. All of the elements of this necklace are small (the cross itself measures just .18") which makes it the perfect, subtle piece for daily wear. It has an adjustable clasp and is unobtrusive enough to layer well with everything. An added bonus is it is also available in both rose gold and yellow gold if the white gold isn't your thing. You'll love catching a glimpse of this little beauty on your neck!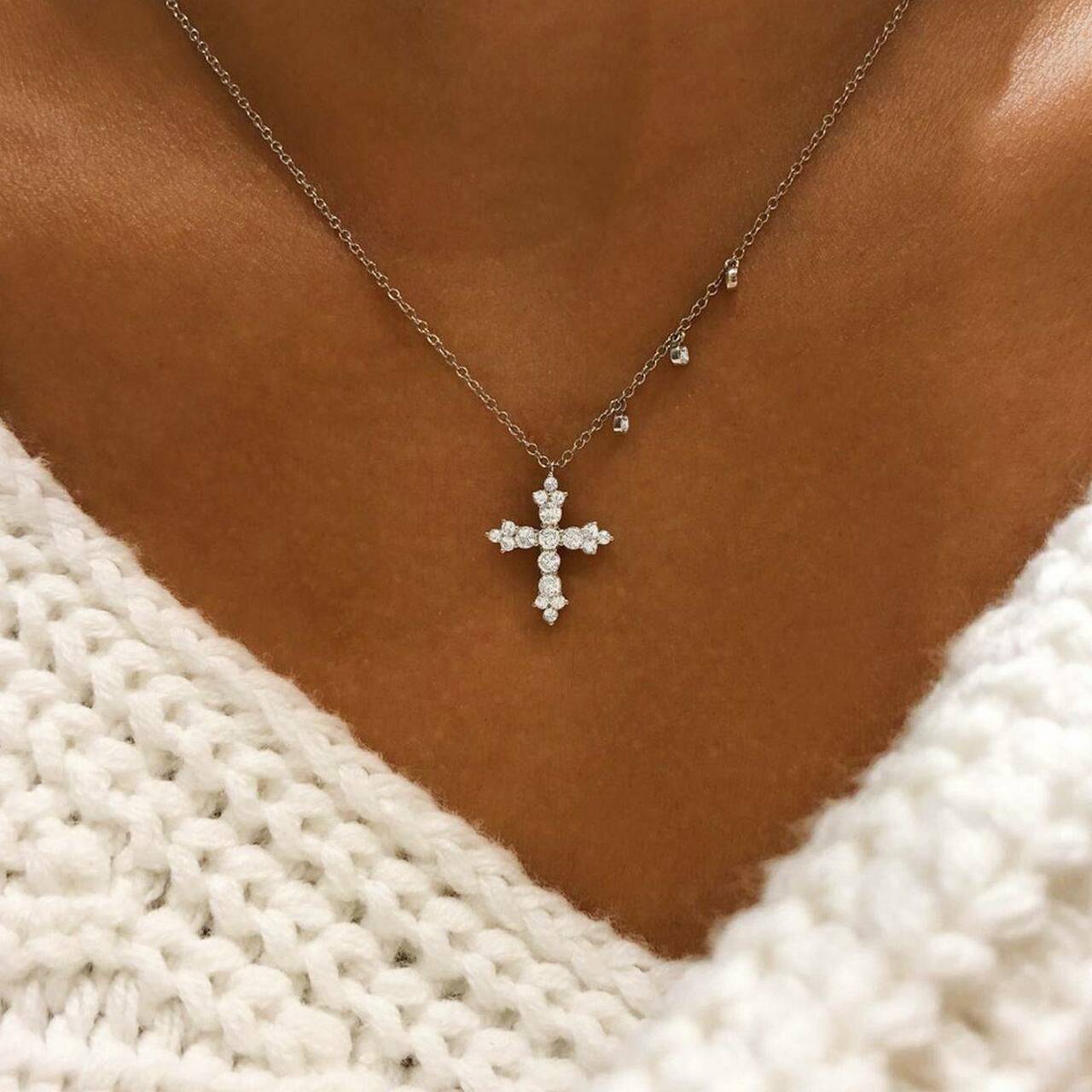 Another hero piece from Meira T, this time pushing the envelope a bit more. Three asymmetrical diamonds add interest to the stunning half-inch diamond encrusted, ornate-style cross that hangs in the center. The asymmetry of this necklace creates a really unique look that is well-known in Meira's designs, as is the ability of her pieces to look amazing layered with other pieces. If white gold is not your preferred color, you can also find this stunning piece in yellow gold.
This piece by Kathy Bransfield is much like the other on this list, but is more modern in design. The top piece of the pendant has a very clean cross punched out, and a simple outline around the edges. The quote beneath reads, "I can do all things through Christ who strengthens me." A contemporary snake chain carries the ¾" pendant beautifully, a delightfully different take created by a talented designer committed to celebrating all of life's defining moments.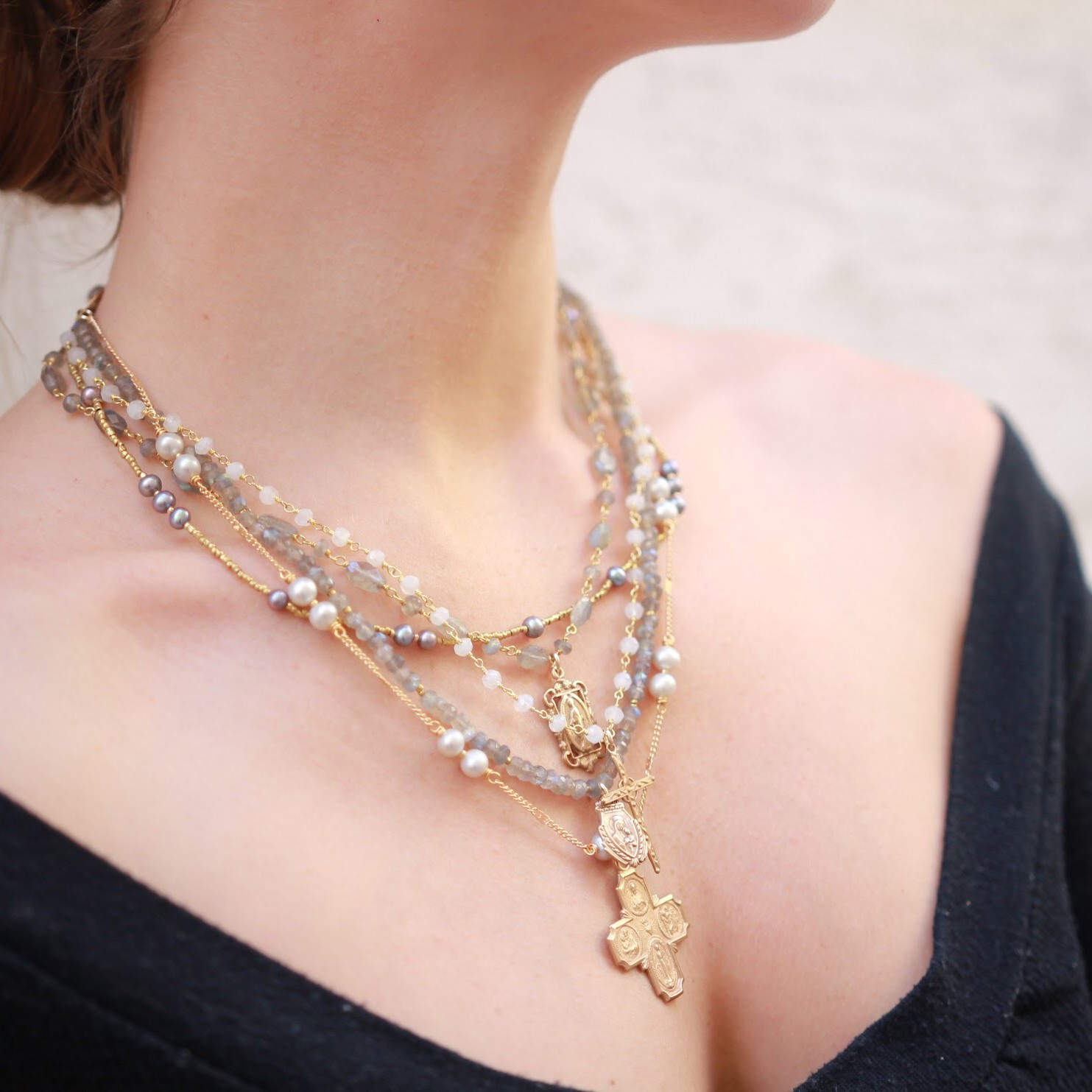 This perfectly curated 5 strand necklace makes statement layering as simple as it is stunning! The 5 strands are all different, but all composed of pearls and moonstones on bronze chains. There are four distinct spiritual medallions; the 4-Way Cross, St. Anthony, Infant of Jesus, and Mimi's cross. Mimi's cross is special as it was the artist's mothers cross. When Mimi passed, Andrea (the artist) and her sister discovered the cross and had it made into a mold so that she could cast from it forever. She now finds that almost no piece is complete until she adds Mimi's cross.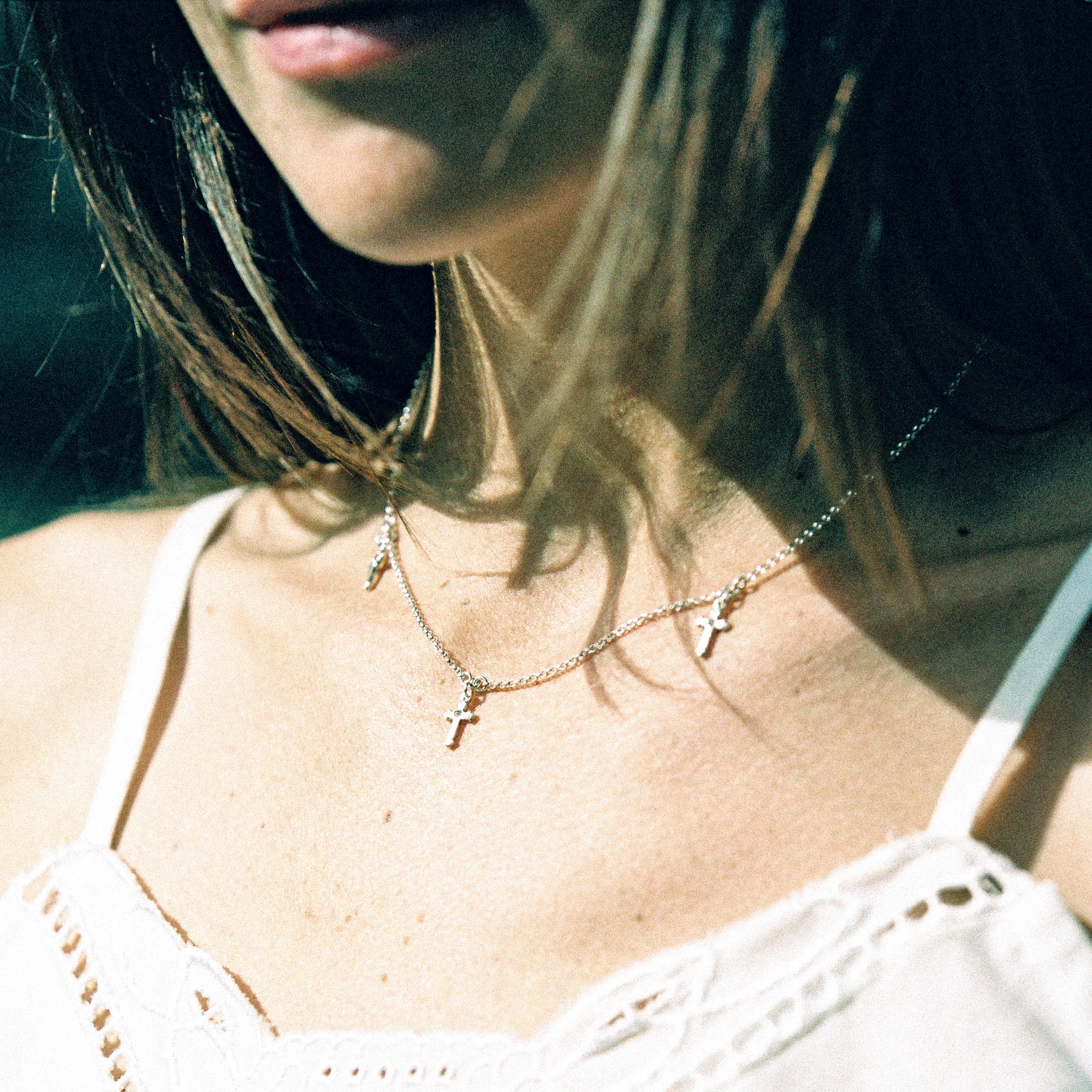 A more delicate offering from VSA Designs, this choker features three small cross charms, each featuring a centered crystal adding interest and a little sparkle. This piece is versatile and chic; it is the perfect piece to act as a base to layer upon. This piece is wonderfully wearable, you can put it on and rest easy that it will go with any outfit; it's not only perpetually in season, but also perpetually powerful. This piece can also be purchased in silver as well as gold to cater to every color taste.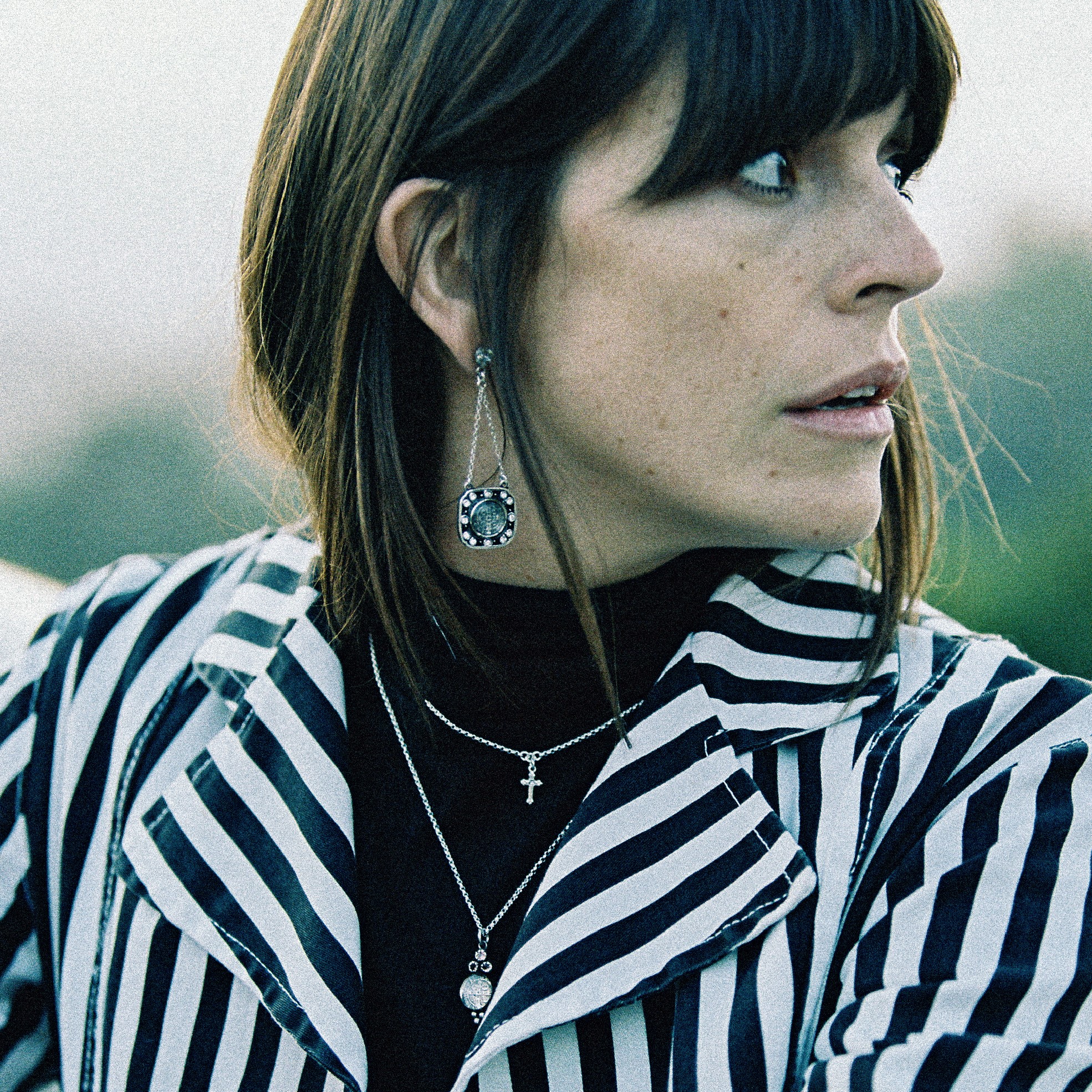 Another of the delightfully delicate pieces from VSA Designs. Much like the 3 Cross Choker, this choker is the same style but with just a single small cross charm with the same centered crystal. Wear it daily and with anything, a solitary and beautiful way to commemorate fidelity to your faith each day. It's simplicity also allows for endless layering opportunities if you want to jazz it up a little bit. You can also purchase this piece in silver.
A wonderful option for those looking for a longer piece with some Boho flair. The chain features stunning glass pearls meeting at the St. Anne medallion. St. Anne is the mother of Mary, grandmother of Jesus and the patron saint of mothers, grandmothers and childless people. A silver cross rests atop St. Anne, and is known to the designer as Mimi's cross (as referenced earlier). This cross is cast from the mold that Andrea made from her mother's beloved cross and really brings the piece together.