As you may have noticed, it is important to us here at the Giving Tree Gallery that we provide you with beautiful pieces that really last. That extends beyond jewelry pieces or useful accessories, we are also proud to offer unique and timeless home decor pieces too! One such example of this is the Nautical Wood Maps collection; they are thoughtful, hand-made 3D wooden maps that celebrate the many different locations where water may be a defining feature. They really make a splash (pun absolutely and enthusiastically intended)!
It also occurs to us that in times like these we are all looking for little pockets of joy and inspiration. We are looking for moments of peace and reflection. It might seem strange to say that a wood chart or map could provide that, but it's surprisingly true. The reason that most people choose a map is as a reminder of a place they love, it calls back sweet memories of simpler, more joyful times. Sometimes it's an aspiration piece, a map of somewhere you have always wanted to go and still plan to someday. With the world a little upside down at the moment these pieces provide some unexpected comfort.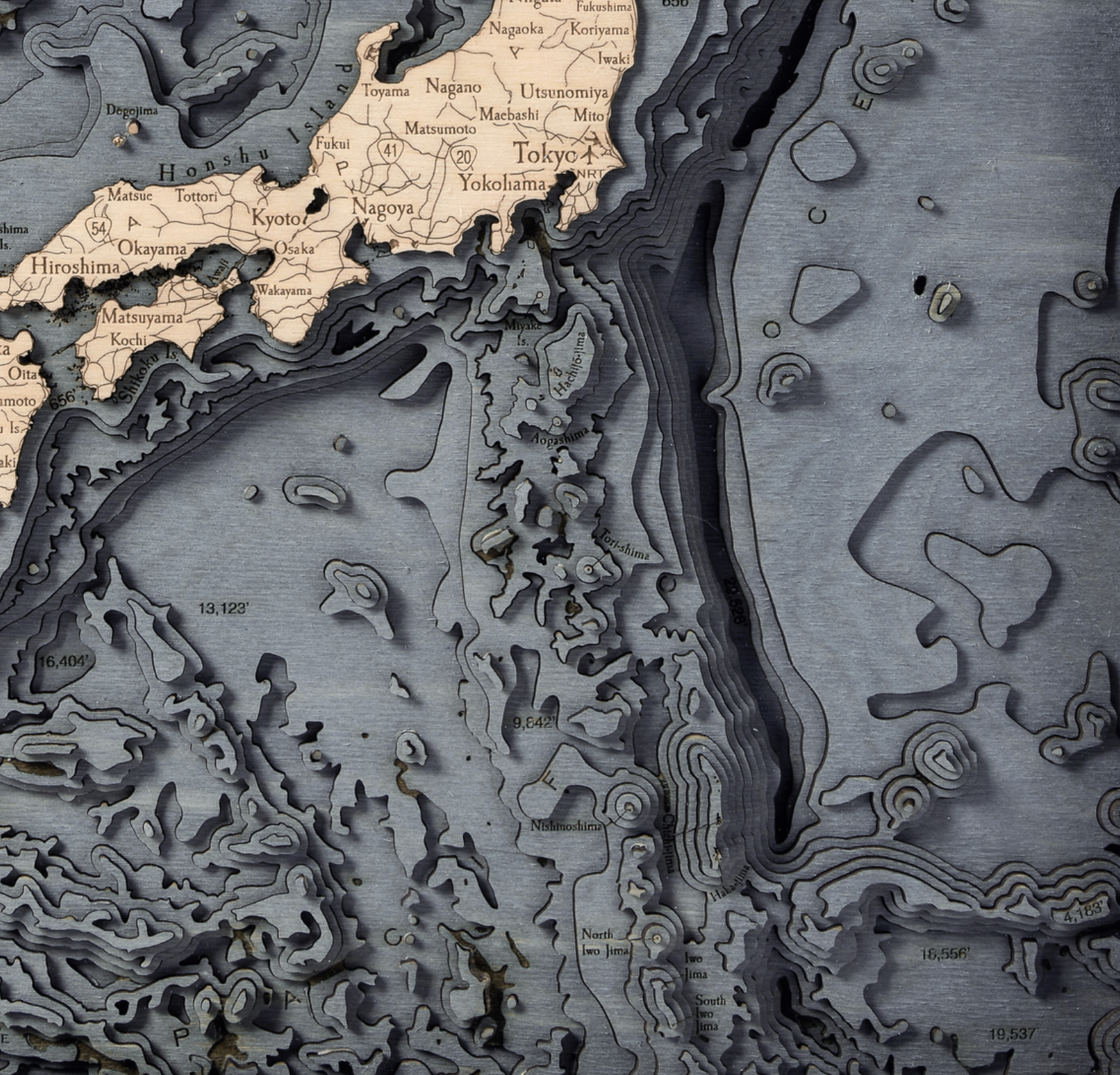 Choosing a wooden map over a regular map is a no-brainer. It feels like there's so much more to see! The textures, the liveliness, the individuality and craftsmanship, it feels so much more alive. These particular wood maps are created using the most up to date technology, they combine skill and artistry in a one-of-a-kind way that makes each piece pop. You just can't help but look at them, get close to them, study them - this in and of itself is a therapeutic enterprise. The details are so incredibly fine and nuanced that for most offerings you could look at it for an hour and still not take in every individual detail. They transport you somewhere else for a while!
What makes it so dynamic is the multitude of sweeping literal layers. Two-dimensional maps are interesting as is, of course, but unless you are a seasoned map reader it can be quite difficult to make sense of what you are seeing. Maps can be overwhelming due to sheer volume of information being presented to you without much context, whereas once you see it in 3D, things start to make a lot more sense. You Can view literal changes in depth being represented, they show you the true difference in topographical and underwater landscapes and you start to see the picture as it is in its natural reality. These three-dimensional iterations are more than just interesting artwork, they are distinctive and ignite a passion for seeing things differently and more organically.
If you will allow us to be flat out honest for a moment, 3D artwork is just cool. What is extra fun about these maps is that they are still unassuming even while being super awesome and interesting! They don't protrude so far off your wall that they encroach or seem unnatural, they're just deep enough to be effective. If you are lucky enough to have viewed them in one of our stores or maybe in a friend's home then you will already know, they really are impossible to ignore. A 3D nautical wood map is a conversation piece, not just for those who might fish or sail, not just for map purists or bathymetric enthusiasts, but for truly everyone.
These 3D wood charts are created by professional cartographers from often more than six individual bathymetric charts (topographic maps, but under the water) and sometimes even make use of satellite imagery. The defining details of each location and the surrounding waters are highly scrutinized to choose the most interesting details that will make the map dynamic and also highly accurate. The designers spend a great deal of time determining how many layers the map should be and what key locations should be included in the design, until they feel it is just right; these details include important points such as cities, national parks, lakes, ponds, inlets, shoals, depths and elevations.
Once that labor intensive outlining process is complete, the map itself is cut using unbelievably precise lasers that make sure that those long-pored over details all make it safely into the final cut. They are hewn from beautiful Baltic Birch wood and then assembled and glued by hand to ensure that every single map is absolutely perfect. The wood is then scrupulously stained and, finally, it is encapsulated in a solid wood frame to create a stunning final piece for your wall. Due to the natural variations in wood grains each piece is one-of-a-kind. Every individual step and every finite detail truly matters in making the artwork perfect.

The 3D wood chart collection from Nautical Wood Maps has been diversifying its stock and its color offerings over recent years and we are proud to offer most charts in two different color schemes; a deep green that lends itself to a more traditional look, and a blue-gray that leans toward both a modern and/or farmhouse feel seen here in the New Orleans map. The ability to choose a wood map in different styles means that the piece you choose is more likely to go with the decor of your own home, or the home of the person for whom you are gifting it to! We also offer maps in various different sizes so they can be the centerpiece of your decor, or a supporting piece to mix in with other wall items.
Decorating with these wood charts is such an easy prospect and process and is way more awesome than using a regular map. As we previously mentioned, they are far more dynamic than their 2D counterparts and immediately grab attention. Maps have a way of really reeling people in, these ones especially, as we just have to know what location is being featured, we can't help ourselves! Most maps are instant conversation pieces, but these particular maps are even more so, because they are just so gosh darn unique, stylish, and detailed.
One of the larger maps is perfect for centering on a large wall that you can then punctuate with other smaller pieces. Alternately, it may be a wonderful idea to start a collection of these beauties. The varied sizes and locations means that you can curate a gallery of your most favorite places. Due to the enormous collection we offer it is almost impossible to not find a location (or many) that means something to you or the person you are shopping for. We have major (and minor) lakes, state coastlines, islands and countries from all around the world! Imagine a gallery wall of maps featuring all the places that hold a piece of your heart? It's not only beautiful, but it would also help us to learn more about a person by seeing the places that they value the most enshrined in their own decor. If by some chance you can't find a place that makes you happy, Nautical Wood Maps is always adding to the collection, takes requests, and fulfills pieces by popularity, so just because it is not available now does not mean it won't be soon! Seen here is a best selling favorite: the Great Lakes - in the Large size.
What is more is that there really is no celebration that these beauties are not appropriate for! We have had people purchase maps to celebrate birthdays, weddings, anniversaries, house-warming's, or just because! They are always fitting, always appreciated, always a little out of the box - basically, they are always a wonderful and surprising treat no matter the reason!