The joy of the holiday season is truly palpable each year. We revel in the warmth and glow and mirth that accompanies the onset of that most wonderful time of the year! We also look forward each year to the limited time release of the Houston Llew Holiday Spiritile. The big release happens early November and runs through the end of December. Due to that finite availability period, the Holiday editions are highly sought after, and retired Tiles from years past are also highly valuable as more time goes by. No matter the year, the Holiday Spiritile seeks to consistently encapsulate the true meaning behind the season: the unbridled spreading of joy, love, beauty and peace. For all of the above, we find that the Holiday Spiritile is the most collectible of the entire collection!
Follow along below for a full round-up of Houston's brilliant Holiday Spiritiles to really get into the holiday spirit!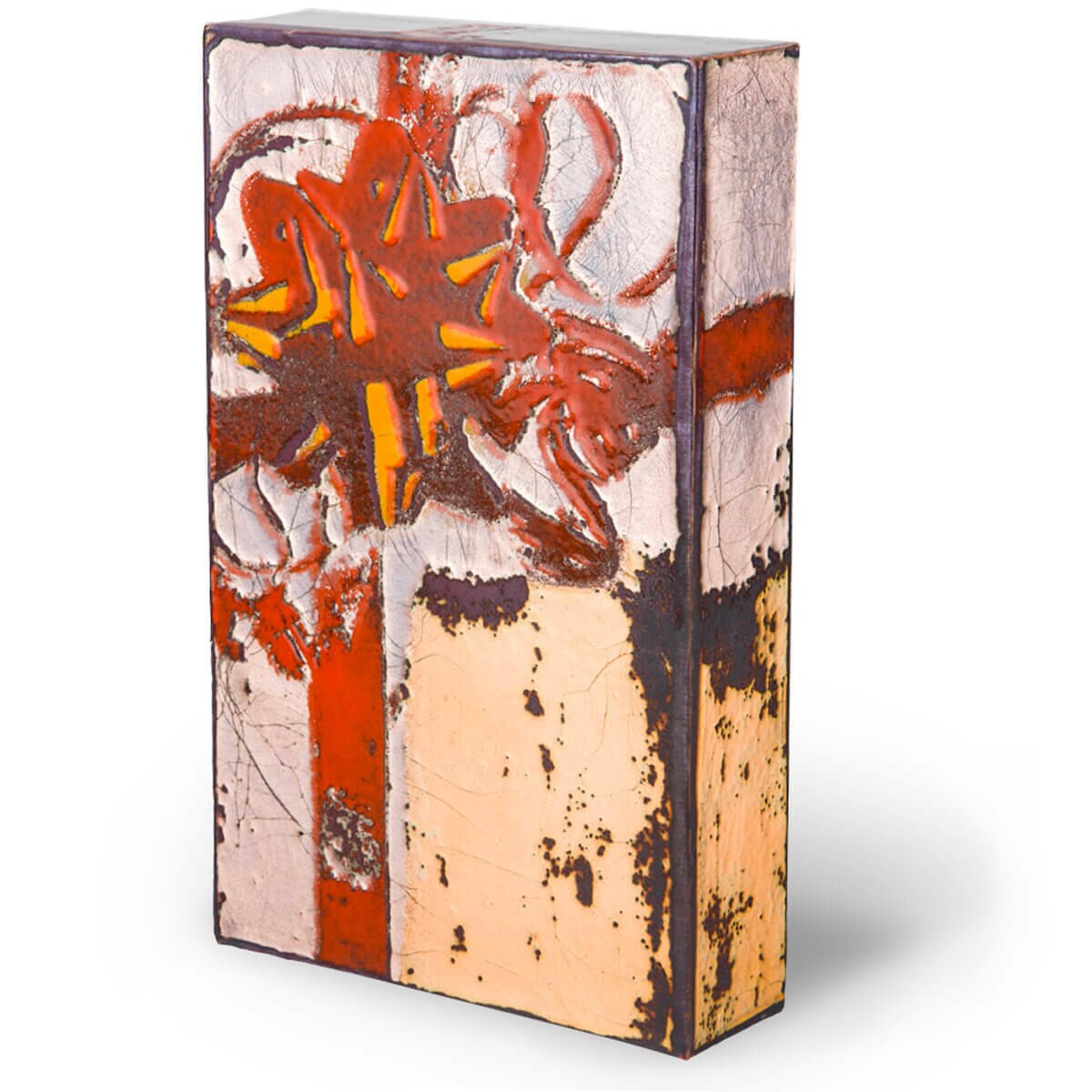 2008 Holiday Spiritile - The Gift 2008 - Spiritile #12 (Retired)

2008 marked the first year that Houston created a Spiritile especially for the Holiday season. Spiritile #12 remains one of the few Spiritiles he has ever made that has no quotation or story on the sides, top or bottom. Instead, he chose to make the entire image stretch across the front and sides of the Tile in order to reflect a priceless gift, something to truly cherish.
The piece itself is multidimensional, appearing almost weathered in design, but with a bold bow. It is made to look like what it is, a gift that keeps on giving year after year, that endures from one holiday period to another.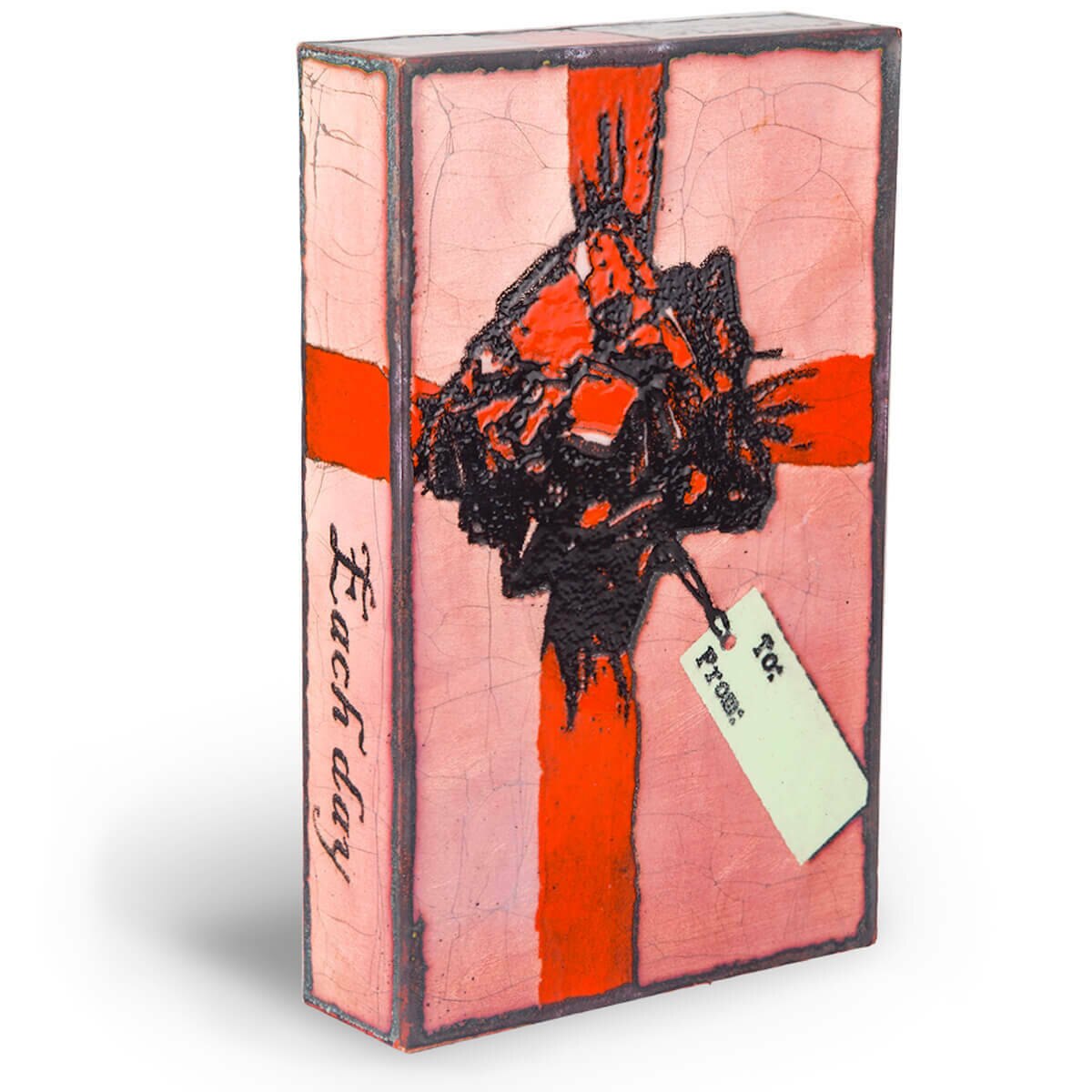 2009 Holiday Spiritile - The Gift 2009 - #50 (Retired)
"Each day brings its own gift." - Marcus Aurelius
Another iteration of the original The Gift Holiday Spiritile, this time with the addition of a quote to ruminate on during the season. This Tile is more polished than the first year, but still dynamic.
The quotation by Marcus Aurelius reminds us not take this time of year for granted, or any day for that matter. Each day brings with it new challenges, new surprises, new joys, and sometimes even new disappointments, but the very fact that you have risen to a new day is a gift in and of itself.
2010 Holiday Spiritile - The Gift 2010 - #82 (Retired)
The third annual Holiday Special Edition tile marked another of the few Spiritiles Houston has made that does not feature a quotation on its sides. Once again, he chose to spread entire image across the front and all four sides in order to represent the idea that the season is the gift.
This particular Spiritile features a stunning blush color with a delicate pattern that is meant to mimic high-end wrapping paper, brought together with a peach double bow. This piece clearly builds on the warm style of the Spiritiles from the two years prior while presenting as more feminine and elegant.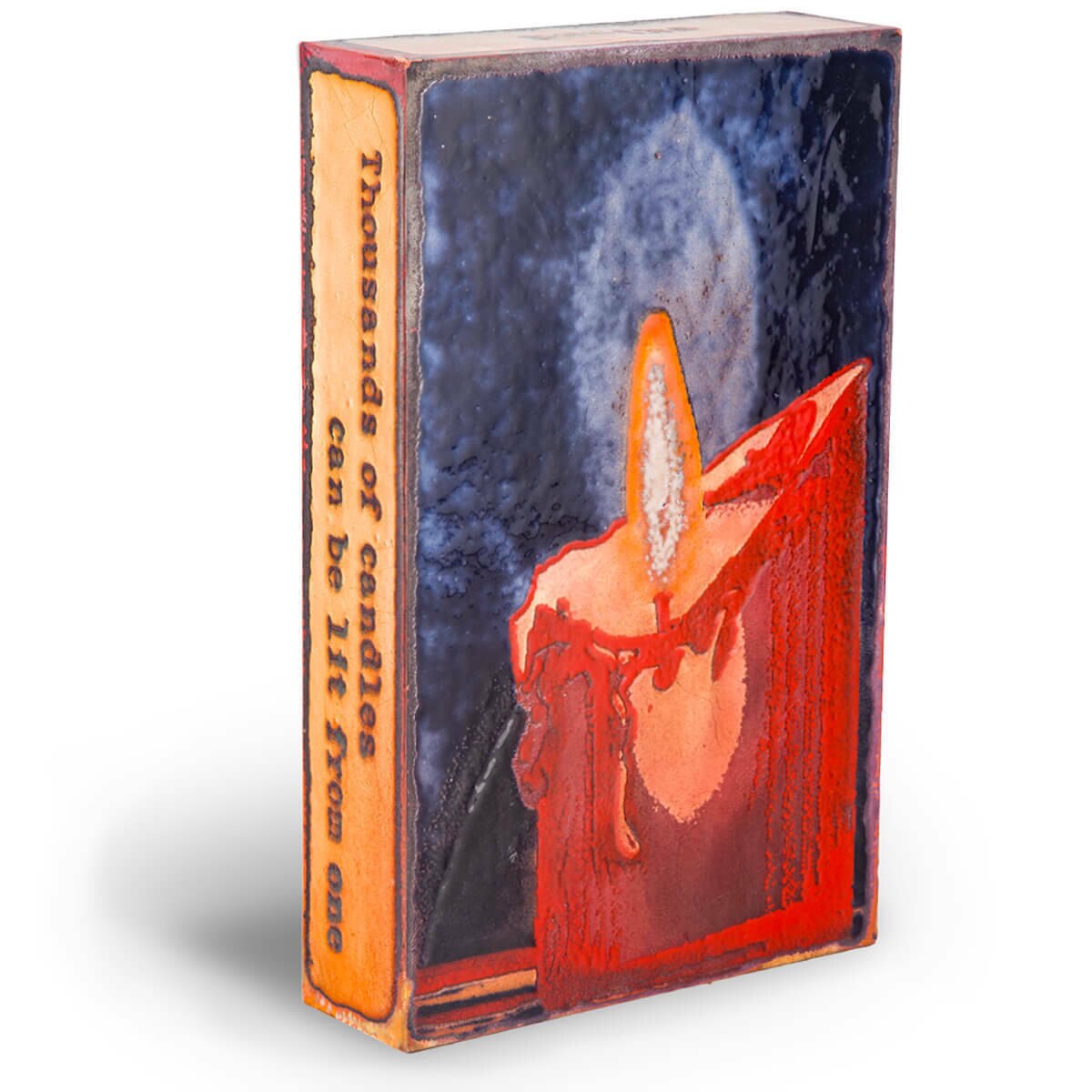 2011 Holiday Spiritile - Eternal Flame - #109 (Retired)

"Thousands of candles can be lit from one and its life will not be shortened." - Buddha
2011's Tile saw a complete redesign from the initial three. A Santa Claus red candle is front and center on a deep blue background, the flame mimicking the warmth of the season.
The Buddha quotation chosen for this Tile is a beautiful reminder that in helping and building up others, we build ourselves up as well. It helps us to see that one person can give to many without forfeiting his or her own strength, and that when we all do this for each other we can be a support in times of doubt, but also receive that support when we encounter our own hardships as well.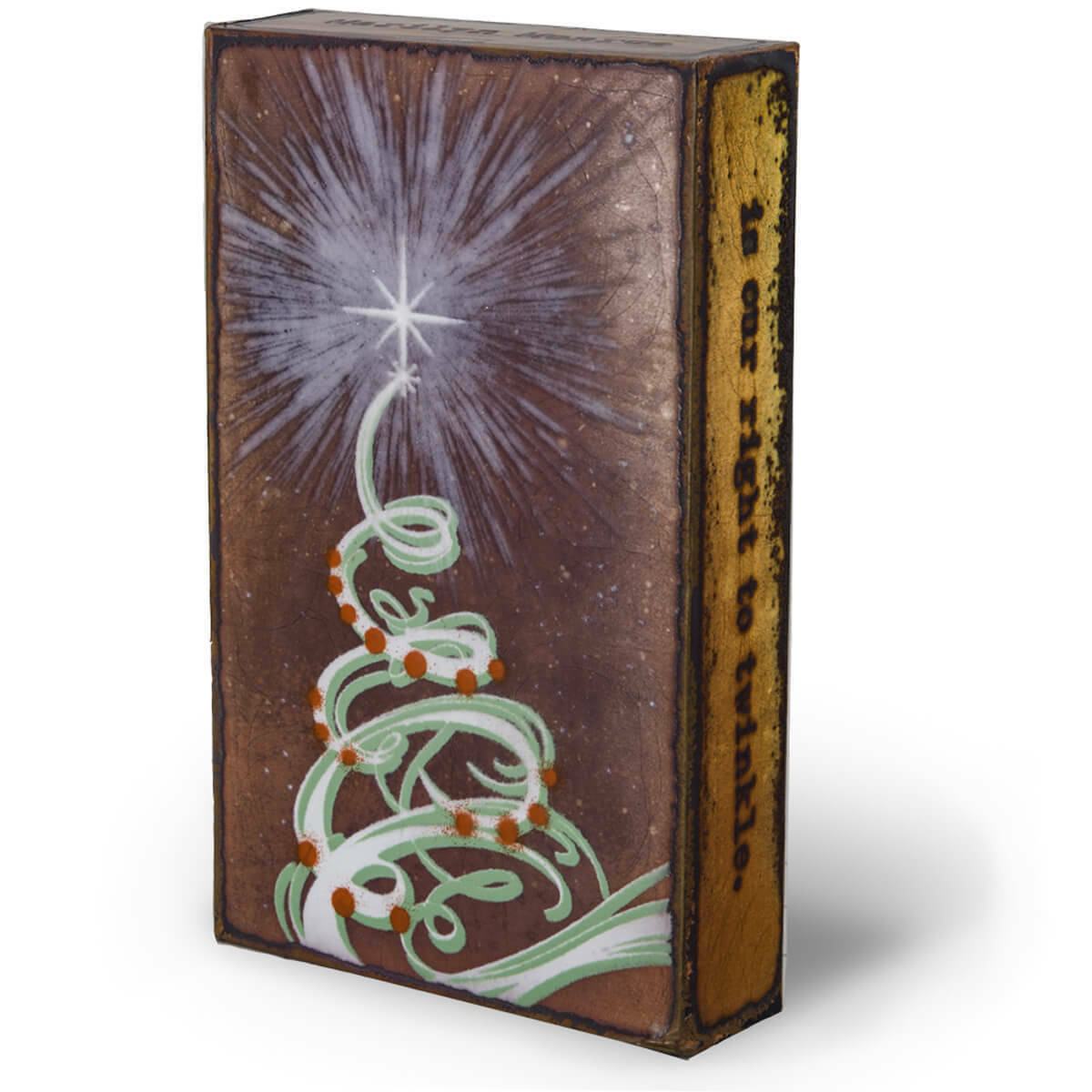 2012 Holiday Spiritile - Twinkle - #129 (Retired)
"All we demand is our right to twinkle." - Marilyn Monroe
A free form green Christmas tree glows in all its glory on a brassy background adorned with bold red ornaments. A large, shining star takes its place at the acme, a nod to the quotation that wraps its sides; we are all deserving of our own special glow and should embrace it without judgement!
Twinkle evokes the flare and sparkle of the holidays, and who we become around the tree. In the glow of the lights wrapped around the branches, we shine, too.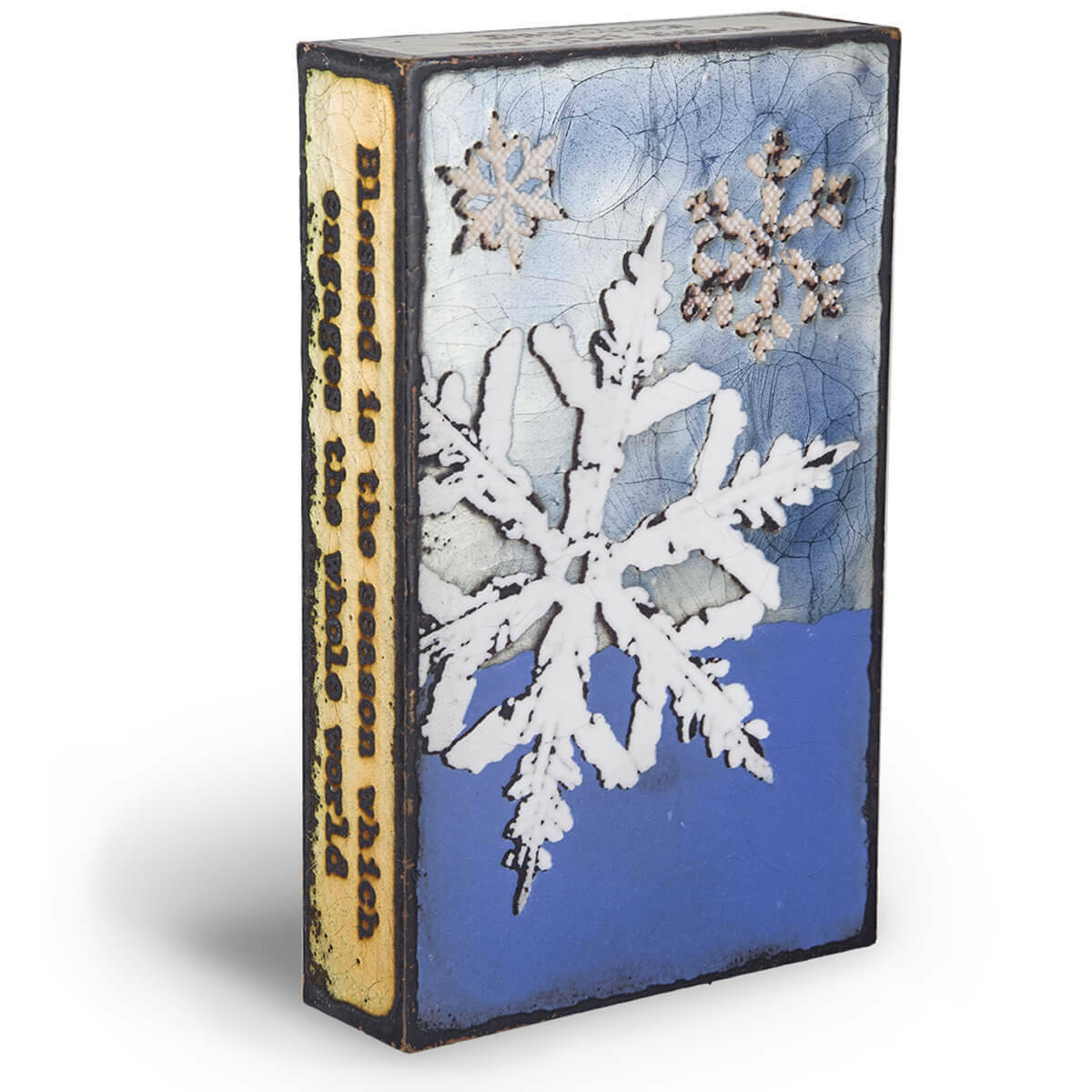 2013 Holiday Spiritile - Snow Days - #147 (Retired)
"Blessed is the season which engages the whole world in a conspiracy of love." - Hamilton Wright Mabie
Snowflakes adorn 2013's Holiday Spiritile, while reminding us that the holiday season is about far more than the gifts we give - it is in the reason we give them in the first place! We join together to be with the ones we love. We gift, we cook, we sing, we worship, and we donate out of love! What a beautiful sentiment for the season!
This piece reminds us that at the core of our holiday festivities and celebrations, the season is about love. Love of being cozy, of watching the snow fall and starting a fire, of huddling together with cider and laughter and letting the rest of the world fade for awhile. This season of love is what we make of it.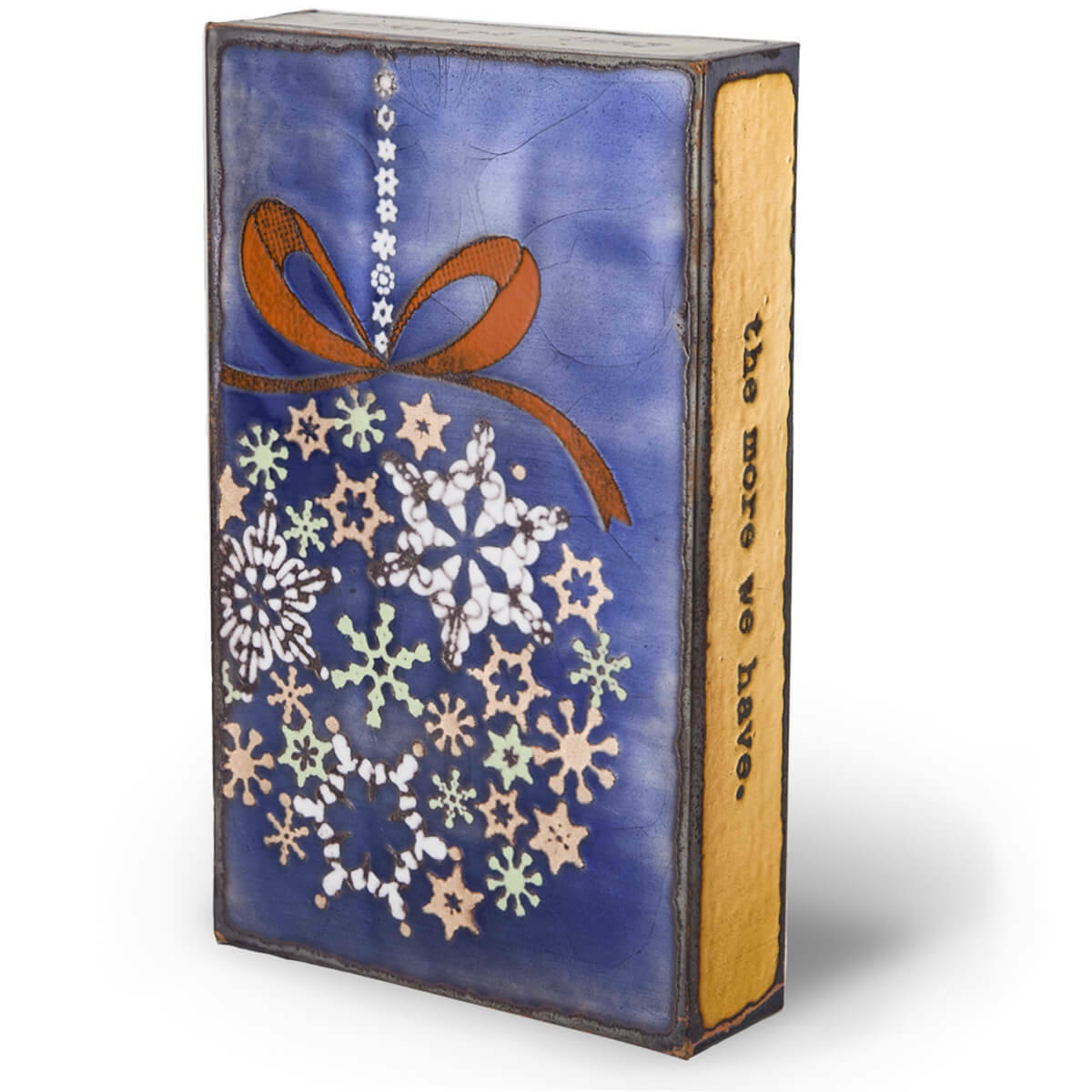 2014 Holiday Spiritile - Adorn - #160 (Retired)
"The more we share, the more we have." - Lenoard Nemoy
This Spiritile embodies the reciprocal nature of giving. 2014's theme reminds us that when we share with each other, we all gather that much more.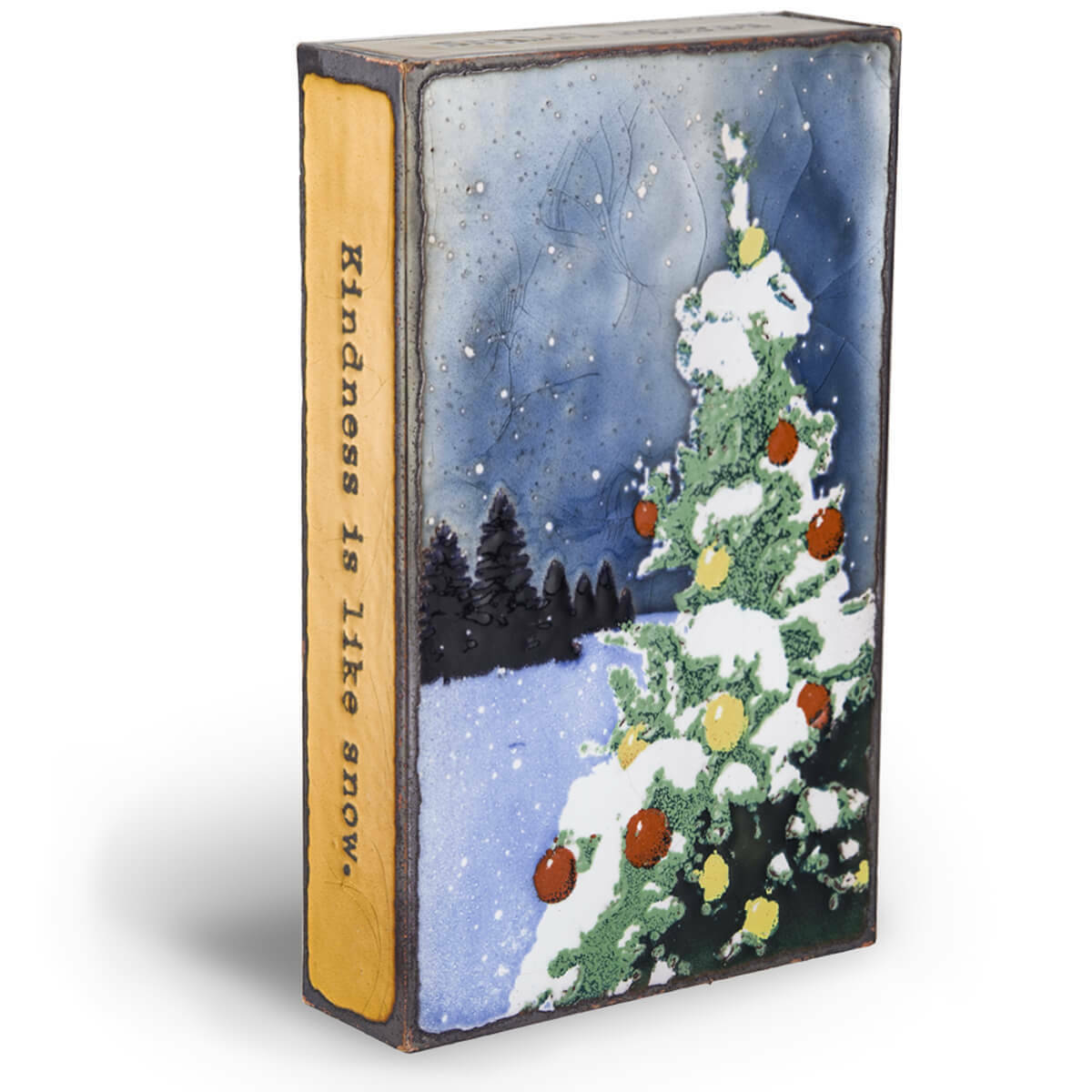 2015 Holiday Spiritile - Tannenbaum - #175 (Retired)
"Kindness is like snow. It beautifies everything it covers." - Kahil Gibran
As we enter the season of cozy sofas with crackling fires, glowing faces on brisk evenings out, and the perpetual scents of ginger, cinnamon, and clove drifting down the street, we ask: What brings us closer? Beyond the chilly mornings and snow covered tree tops, it is kindness that draws us closer, opens our hearts, and lasts long after winter has shed its last hue.
Houston's holiday tile for 2015 asks this of us: To keep the joyous spirit alive by appreciating the small, everyday acts of kindness we show to each other. So let's be charitable, share a bottle of wine (or two), and paint the town with the town with the bright, beautiful colors of our big hearts. Designed as the 2015 Holiday Limited Edition, this Spiritile embodies the beauty of kindness and the magic it brings to the holidays. Every year, Houston designs a new tile to ignite a theme for that holiday season. 2015's theme was kindness, and beautiful snow-covered Christmas trees!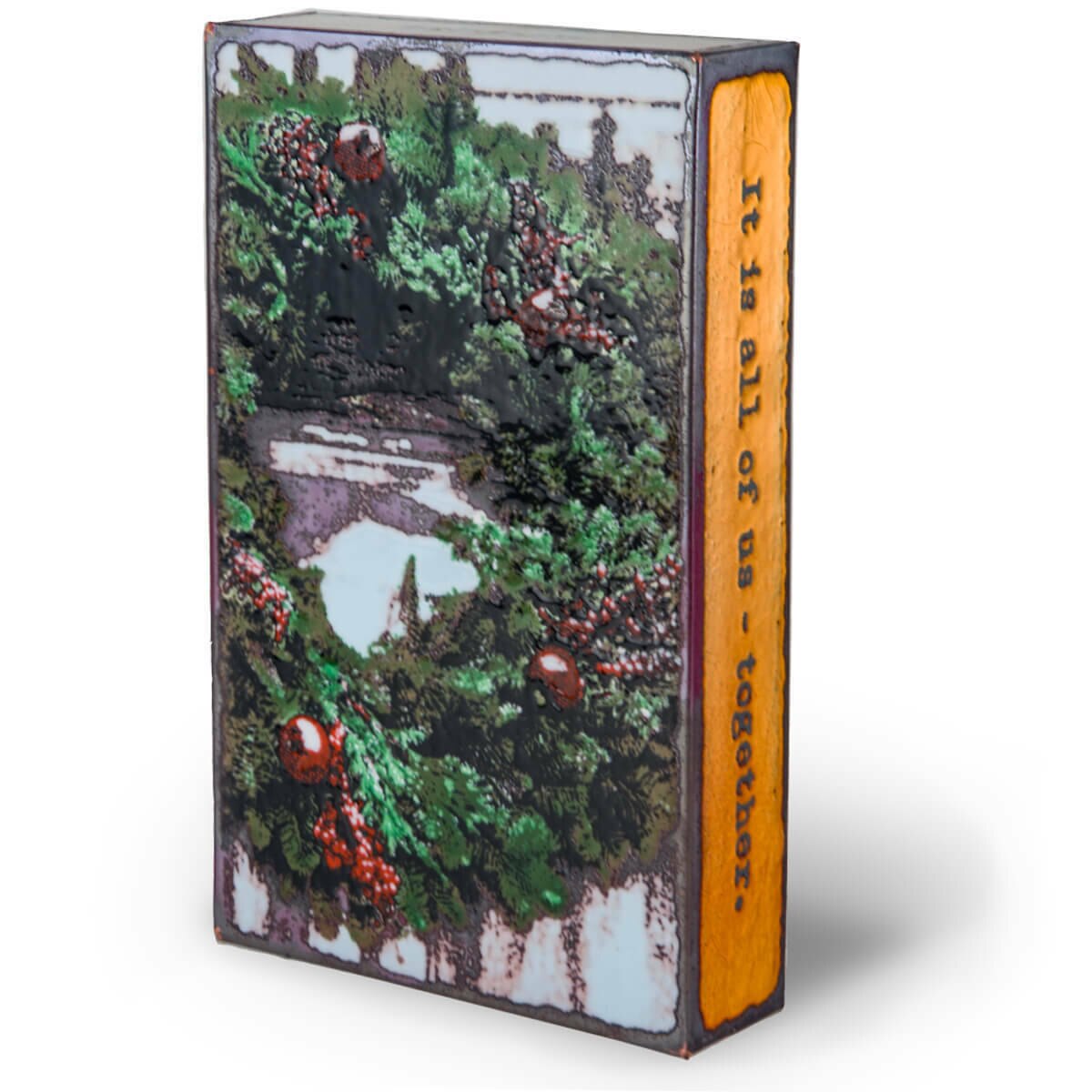 2016 Holiday Spiritile - Gathering - #194 (Retired)
"For us, home is more than a place. It is all of us — together." - Unknown
As we step out into the season of evergreen, we hurry from place to place in our dash to catch it all. Then, with a quiet honest warmth, it's the small things that catch us, give us pause to reflect and realize why we do all of this: the planning, decorating, buying, baking. It's all about GATHERING.
Creating this year's Spiritile has inspired me to do these things: Draw in a full breath of brisk air, savor the aura fresh-split pine and hot spiced cider. Step up to the door of festivity, knock, let it greet you with a familiar smile and a glass of Grandma's stronger-than-usual eggnog. Gather loved ones around until the house bursts with open hearts, full bellies, and late-night laughter. Here is my wish for you: Create a home this holiday, not of the things you have, but by drawing close the people you love, pouring the wine, staying up late, and eating more than your share of pie. Savor the moment. 'Tis the Season for Gathering!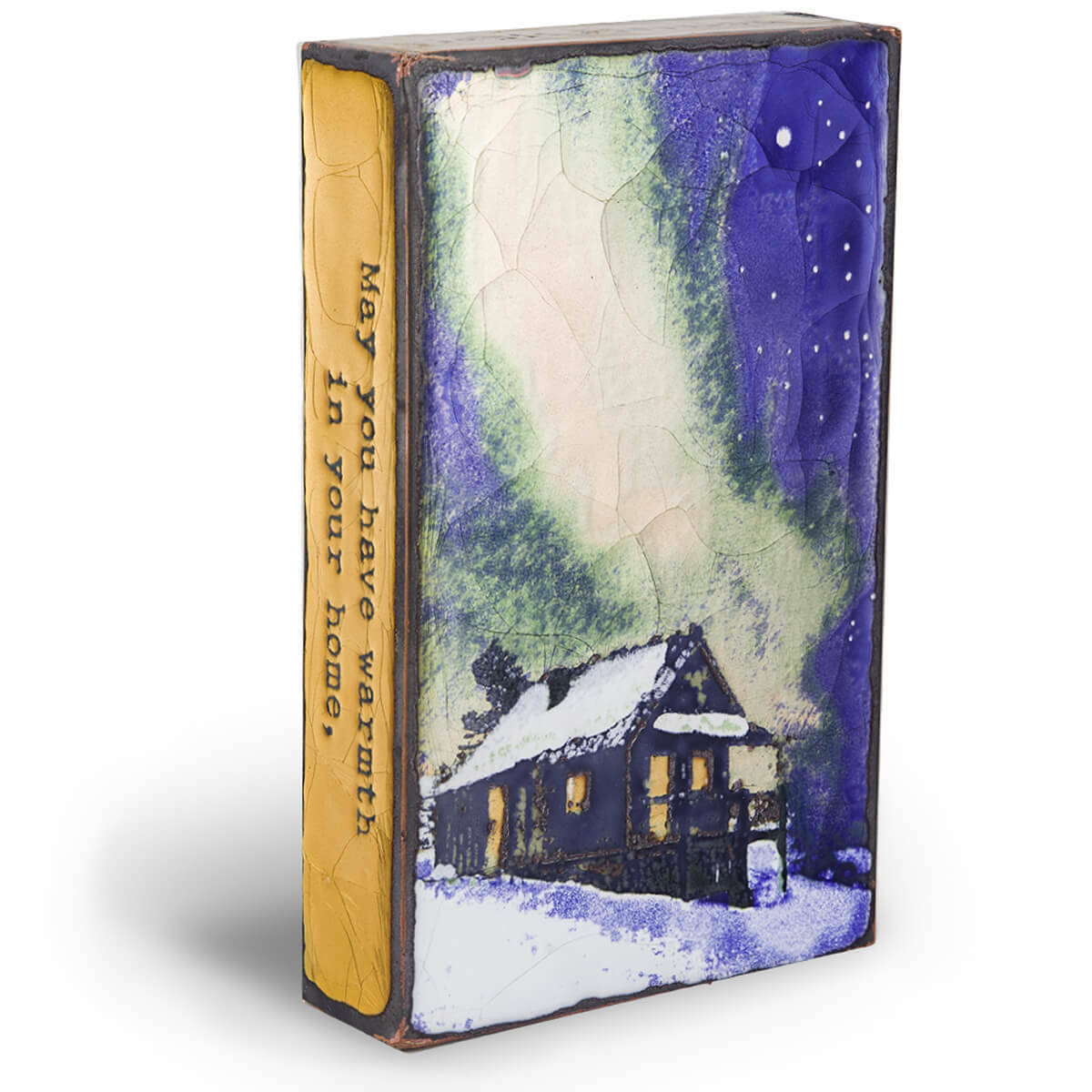 2017 Holiday Spiritile - Aurora - #211 (Retired)
"May you have warmth in your home, oil in your lamp, and peace in your heart." - Intuit Blessing
With fall at its peak, we are eager for the brisk evening air, crisp wind through our fingers, the wintry breeze that draws us closer. We are ready to light up the fireplace and make our house glow. We have spent our summer days soaking up the sun in preparation for this - the long winter's nap.
With our return to longer, luxurious nights, we can finally delight in the magical peace of winter once again. We can make soup and hot cider and play cards in the joyful company of each other. We can pour ourselves a glass or two and relax with friends while sharing our hopes for the new year. We can rejuvenate our senses in familiar surroundings while escaping to exotic universes through those books we keep meaning to read. All these things are open to us in the winter wonderland we call home.
Designed as the 2017 Holiday Limited Edition, this Spiritile wishes a cozy home for each of us to enjoy the winter season, and encourages us to reawaken that inner child of wonder within.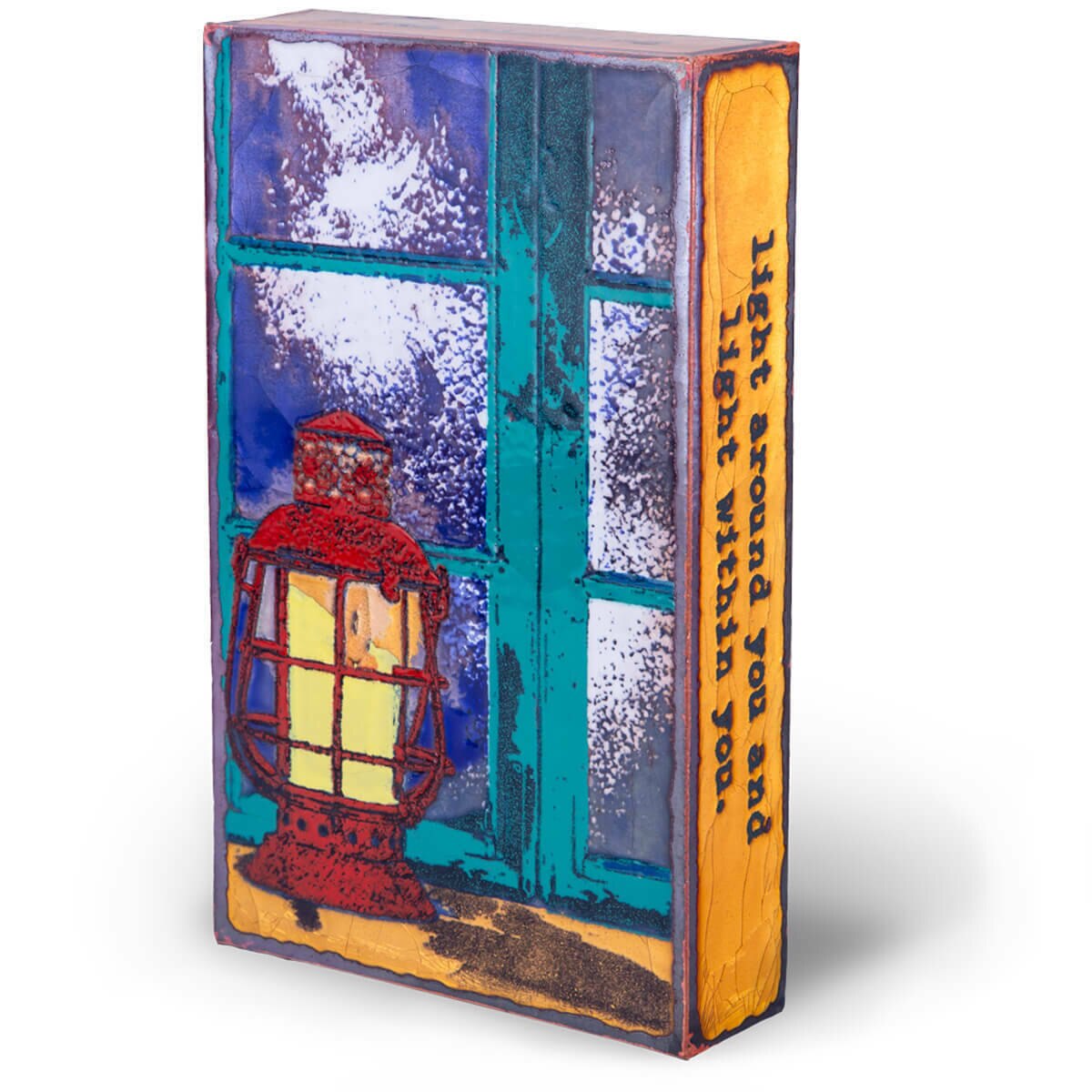 2018 Holiday Spiritile - Glow - #226 (Retired)
"May the blessing of light be upon you, light around you and light within you." - Irish Blessing
Within the wrappings of festivity, every year the holidays hold the potential for profound moments. The halls are bedecked, music rings, but we could let go of all the fancy trimmings and still experience the heart of the season, so long as we keep joy that is unfettered and dancing within us. This joy, formed by enjoying the moment to its full, is what creates that glow. When we feel the glow, the blessing of light is upon us, around us, within us. Let us shine that light.
Designed as the 2018 Holiday Limited Release, this Spiritile is dedicated to that enlightened spirit flowing throughout the holidays!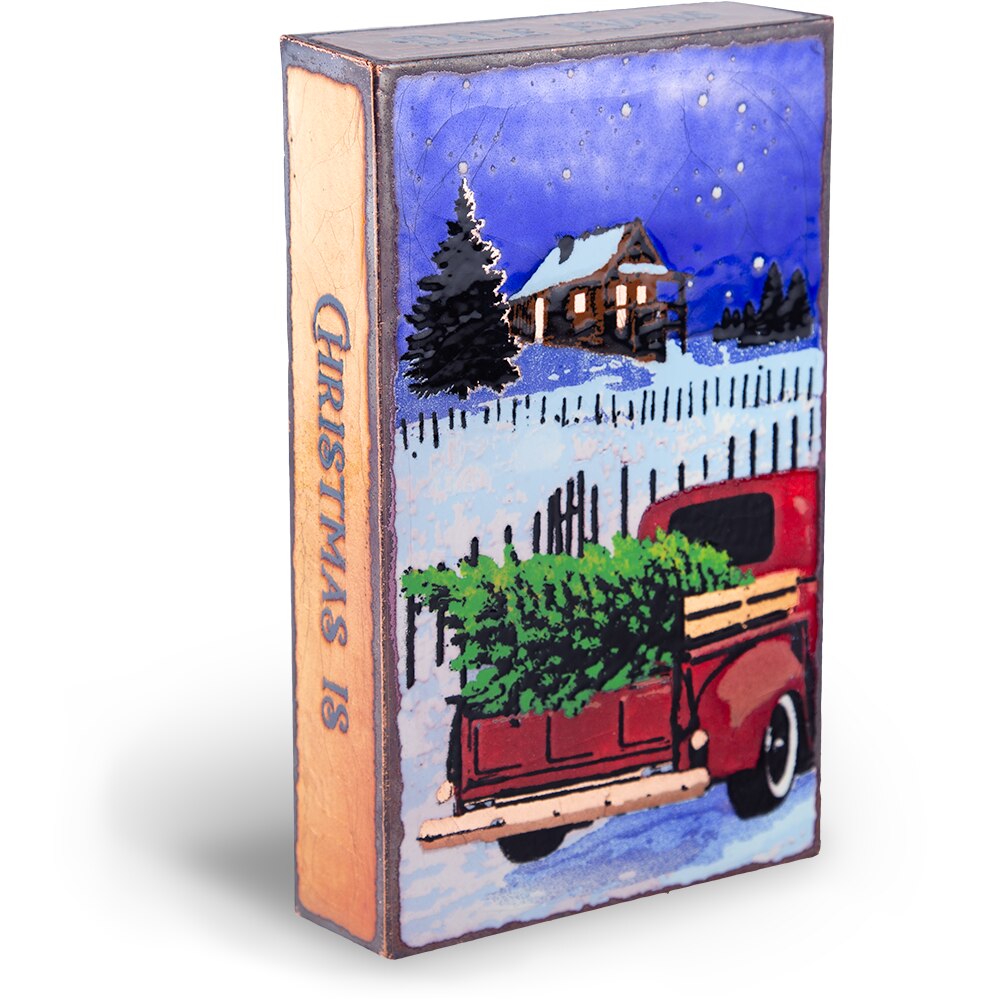 2019 Holiday Spiritile - Yuletide - #244
"Christmas is Love in Action." - Dale Evans
If we gather up all of the holiday's festive adornments and small kindnesses, we find that all are expressions of our affection, wrapped in color and lights. During the holidays, we draw closer together to act on our love.
Christmas is returning home to a wonderland where we are all children again. It is a return to the grander acts of kindness and joy we wish for all year long, and to the assurance that life is full of hope and getting brighter every day.
This 'Yuletide' Holiday Spiritile is about that returning, the knowledge that we can profess our love in word and deed, savor the peace of wintertime, and delight like children in each moment we experience with one another.
2020 - No Release
Unfortunately, there will be no Holiday Spiritile released this year. With limited resources due to the pandemic and the safety of his dedicated staff to consider, it was just not possible to create a piece that was up to the exacting standards of Houston and his craftspeople. As such, the decision was made to go without a Spiritile for 2020, something that is sure to be disappointing for not just Houston himself, but all of you as well. We will, however, keep you up to date with any new releases in the coming new year!