Meira Tshown above
Cleaning our most precious fine pieces is the one thing that we really don't think of until we pull out the necklace or earrings we want to wear on a special night out and find them dull and dirty. So just how do you clean the finery without damaging them further? You've come to the right place!
Generally speaking, the best way to preserve the beauty of your pieces is to keep them as clean as possible while you are wearing them. If at all possible try to keep your jewelry from getting wet, that means taking off your jewels before getting into the bath or shower, ocean, and especially pools! Chlorine is a nightmare for many metals, especially those that are plated. Do your best to avoid covering your pieces in any soaps, lotions, or perfumes - again, the added chemicals are terrible for metals (especially plated metals) and residue quickly collects and dulls gemstones.
Now let's get into the cleaning process! First things first, get to know all your pieces beforehand to help keep them pristine for longer! What are your pieces made of? Are they solid gold or sterling silver, or are they plated? Gemstones, pearls, beaded? Yikes, there's a lot to consider here! It's important to get these facts down before moving on to the next step as the wrong method of cleaning can actually further tarnish or degrade certain metals or precious adornments. Once you have a good idea of what your pieces are made of you can follow this handy guide of how to carefully clean your jewelry. We prefer to provide the most natural means of cleaning, preferably avoiding harder and more aggressive chemicals. If you are dealing with plated jewelry or fashion jewelry, please head to our guide for cleaning fashion and costume pieces!
How do you know if your pieces are gold, sterling silver, or plated?
By law, in the USA, pieces that are solid gold must be stamped as such. The stamp will appear as a tiny engraving, usually near or on the clasp if it's a bracelet or necklace or just about anywhere on an earring. Gold stamps will bear the karat weight, simply 14K or 18K (or 9K) and not more. If "GF" proceeds the karat weight, this means it is plated. (Gold Filled) Sterling silver pieces will be stamped with: .925. (Which means that at least 92.5% of the piece is sterling silver.) If you see no stamp, the piece is likely plated, but it could be that it has worn off. If there is uncertainty, consult with your local jeweler, who can test it, or buy a gold testing kit and do it yourself. This ring by Tomasz Plodowski bears the stamp along the side of the ring, whereas this 14KT gold box chain bears it near the clasp.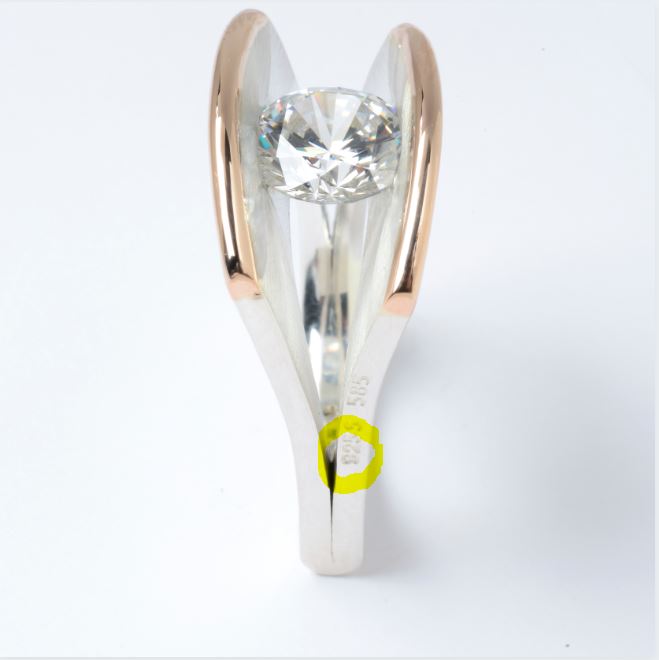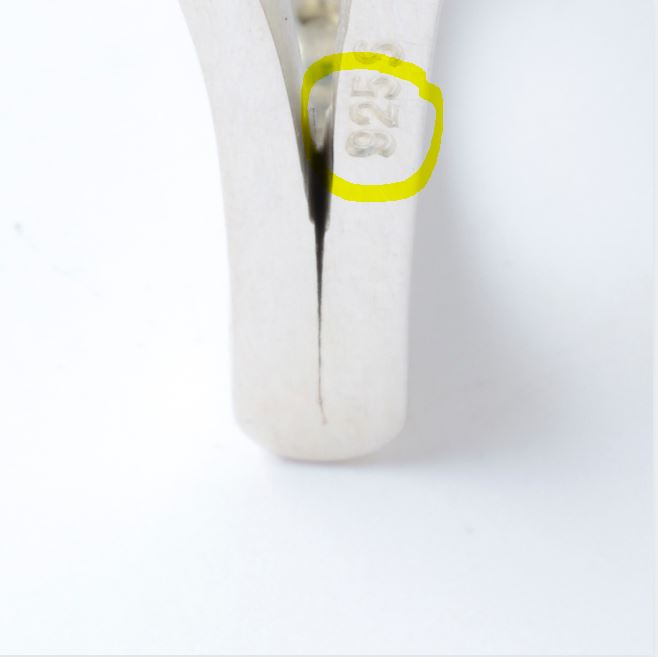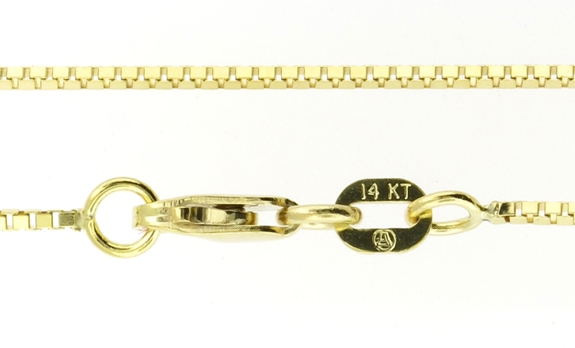 Sterling Silver
Now that you have located the official .925 stamp and confirmed your piece is legit sterling silver, assess the degree of dirt that you are dealing with. For very dirty, tarnished, or oxidizing sterling silver, use the following recipe and instructions to make them shine like new.
What you'll need:
1 TBSP salt
1 TBSP baking soda
1 TBSP dish detergent (Dawn, etc.)
1 cup water
1 piece aluminum foil
1 small bowl (cereal or soup size)
1 soft cloth - for drying
Directions: Heat water in the microwave for 1-2 mins. Cut aluminum foil so it covers the bottom of the bowl you will be using. Place jewelry on the aluminum foil and into the bowl. Once hot, pour water into the bowl, followed by salt, baking soda and dish detergent. Leave jewelry in mixture for 5-10 minutes. Remove jewelry from mixture and rinse with cold water. Lay jewelry on soft cloth and dry completely. Discard mixture after cleaning and make a new batch for each set of jewelry
For moderate to mild cleaning, you can use a regular baking soda toothpaste, like Arm & Hammer. Take a dab of the white paste (avoid the gel kind) and, using a soft toothbrush, gently scrub the dirt and grime away. Be sure to rinse your piece thoroughly with warm water when you're done to avoid leaving residue behind. Dry completely with a soft towel or microfiber cloth.
14K Gold+
You can follow the same instructions as above for your gold pieces. It is most important that gold avoid contact with chlorine, especially in high quantities, and even more at high temperatures. Hot tubs and the like can permanently tarnish your gold jewelry where no amount of cleaning can return them to their original luster.
Diamonds and gemstones
A solution of simple dish soap (avoid the fancy stuff with added ingredients) and seltzer water! It sounds funny, but the carbonation of the seltzer water actually helps to dislodge dirt and grime around settings and hard to reach areas. Soak your pieces and use a soft toothbrush to gently coax out the yucky debris that is stopping your gems from sparkling as they should. As with everything, make sure to rinse your pieces when you're done and dry using a soft towel or microfiber cloth. Be sure to avoid ammonia when cleaning colored gemstones; some gemstones are treated in order to enhance colors before setting and unknown active ingredients in fancier soaps or the addition of ammonia to your solution could adversely affect the hues of your colored stones.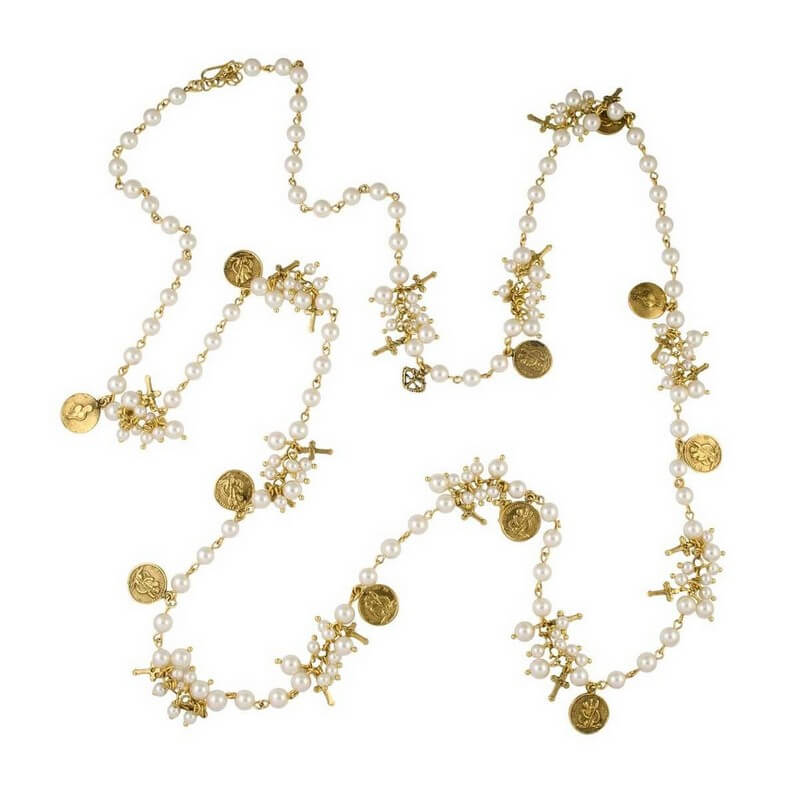 Pearls and Porous Stones
Pearls, turquoise, and opals are all porous stones. The most important rule to remember when cleaning is to NEVER soak them. Use a simple solution of soap and water (or gentle shampoo and water) and a clean, soft makeup brush to individually care for each pearl/stone on your strand. Once you have finished, clean them off with a soft, damp towel that has been thoroughly wrung out and allow them to air dry.
As we mentioned at the start, the best way to avoid too much cleaning is to take good care of your pieces while you wear them. Again, if you are also looking to clean fashion jewelry (often plated or faux) then go ahead and check out our guide for costume pieces. We hope that this has helped to fill in the gaps in your jewelry care and we can't wait for you to see your gems sparkling like new!