When you are shopping for rings online it becomes incredibly important that you know your own ring size, or at least have an accurate method of figuring it out at home. Similarly, if you are shopping for someone else (engagement rings, gifts, etc.), you really want to get it right the first time around. There is a lot to consider when determining your ring size and we aim to cover all aspects of that measuring process and different methods for at-home measuring here. We also have the best tips for sneakily sleuthing your partner's ring size (or anyone else you might want to purchase for) if you are trying to get something as a surprise!
THE BASICS
There are a few basic things that you should know about rings and sizing in general that can help you in your quest for the perfect fit, both now and in the future. These facts are relevant for your own sizing and if you are shopping for someone else.
In general, ring sizes vary from a size 3 at the smallest to a size 13.5 at the largest. That does not mean, of course, that you could not find a ring that was smaller or larger to purchase at different stores, but they may well be harder to find or need to be custom ordered.
Ring measurements are taken from the interior of the band.
The average ring size for a woman is between a size 6 and a size 8. This does not change based on whether it is an everyday ring, wedding band or engagement ring. We would humbly suggest that it is best not to depend on averages if the ring is as important as an engagement ring though!
The average ring size for a man is between a size 9 and a size 11.
The difference from one ring size to the next is between 2 and 3 millimeters on the interior of the band.
Given the small margins, most people can comfortably wear a ring that is a half size too large or too small without much fuss, but this will inevitably vary from person to person.
Purchasing a "Comfort Fit" ring means purchasing a ring that has more rounded edges and, as such, has less metal in direct contact with the finger. Because of this, Comfort Fit rings tend to feel looser in fit.
The wider the actual band itself, the tighter the ring will feel. Anything above 5mm in width will likely need to be purchased a half size larger than the true ring size.
Rings will fit differently throughout the day. They will feel larger in the morning when you are first waking up, smaller in the evening when you are settling down, and they will also vary in fit based on diet and lifestyle. On any given day, over the course of the entire day, the size of your finger will fluctuate by about .7mm.
HOW TO MEASURE
First and foremost, if you feel comfortable doing so, do try and visit a professional jeweler to be measured. You will get a very precise measurement as they are specially trained, they have specific and highly accurate tools, and they are able to confidently generalize about those people who may fall in between two sizes.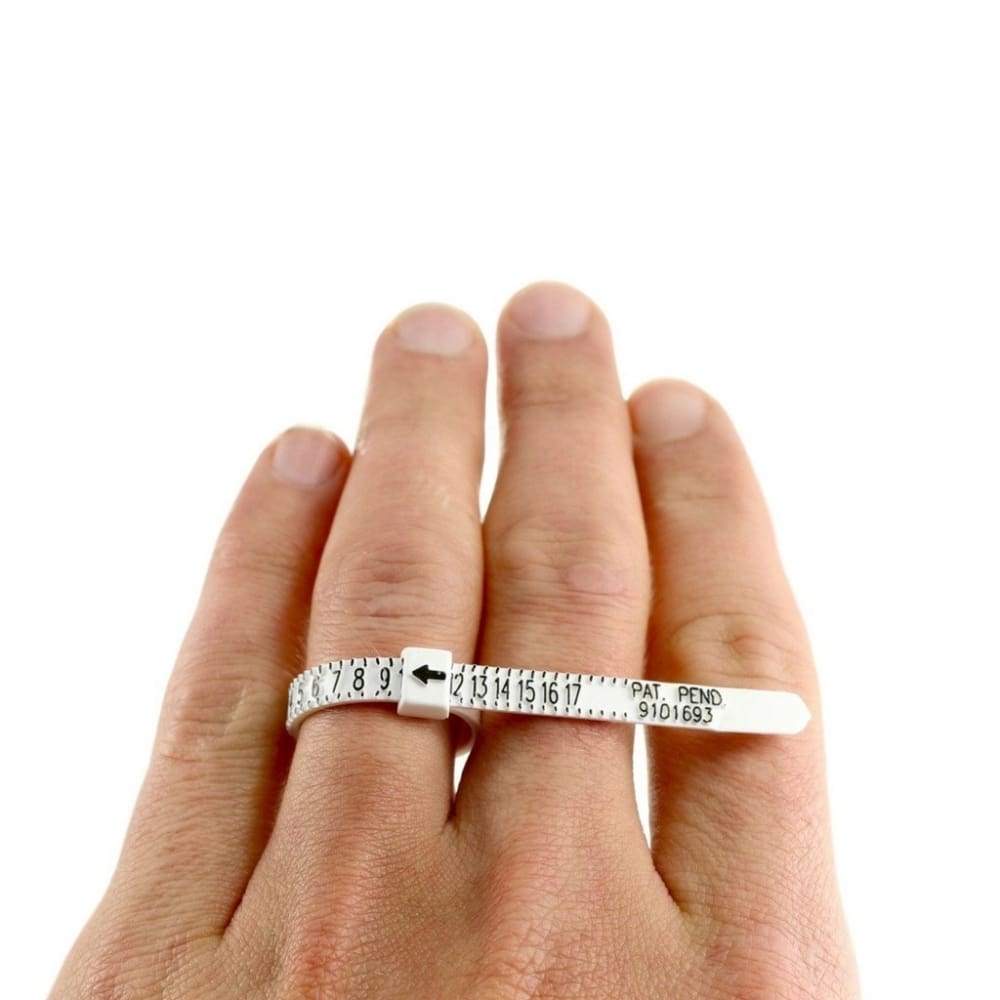 If you do not want to visit a jeweler, or if you are purchasing for someone else as a gift or a surprise, then it is easy enough to figure out sizing at home using one of the following methods.
If you have some time and are patient you can order our adjustable ring sizer, which includes a $15 coupon for your next ring purchase over $75. An adjustable ring sizer is basically a fancy zip tie that you tighten around your finger and the number you can comfortably slide to is your size.
Use a strip of paper or thread. Take a thin strip of paper or a piece of thread and wrap it around the desired finger. Either use a pen to mark the paper or string, or make a fold where the two ends overlap forming a circle. Lay that flat and measure it from the end to the pen mark and then use a ring size conversion chart like the one we have provided below to convert it to your size. You could also use the circle and compare it to a free downloadable or printable ring size chart that features true-to-size ring outlines.
If you have one on hand that fits perfectly, measure a ring you already own and compare that measurement to a ring size chart.
If it is for someone else, borrow a ring they love and take the measurement from that to compare to a ring size chart. If you can manage to sneak away a ring they already wear then that would be ideal and you can rest easy knowing that it will fit perfectly. Just be sure that it is a ring that they wear on the same finger that you are purchasing for (ex: if you are buying them a ring for their index finger, make sure you are measuring a ring that they already wear on their index finger).
Use a tapered candle. If you have a ring on hand and don't know the size then try sliding it down a tapered candle until it won't go any further. Cut the candle at that point with a sharp knife. Compare that circle using a ring size chart or you can measure across the diameter or the circumference of the candle and use a conversion chart to determine sizing. This method is also great if you have access to a ring, but can't sneakily take it away and measure it - just slip it down the candle until it marks the wax and then you can do the cutting and measuring when you get home!
GETTING IT RIGHT
Here are some important tips for measuring to make sure that you get it as accurate as possible:
Try not to measure cold hands as they are typically smaller than when you are warm. The best time to measure your fingers is at the end of the day when your fingers will be at their largest.
That being said, measure multiple times for accuracy. Taking measurements throughout the day and over the course of a couple of days is the best way to get the perfect fit.
Always measure the finger that you (or they) intend to wear the ring on. This may seem like a no-brainer, but it is a mistake often made and not necessarily easily rectified!
Dominant hands tend to be a ¼ to ½ size bigger than their counterparts - if you know the ring size of a finger on one hand, then bear that increase (or decrease) in mind if you are ordering for the same finger on the other hand.
As a general rule, if you are in between sizes, you should opt for the larger of the two.
If you have a large knuckle then measure your finger on both sides of the knuckle and go for a size somewhere in the middle.
If a ring is more than 5mm in width then you will also need to size up by around a half size as the wider a ring is, the tighter it will be on your finger.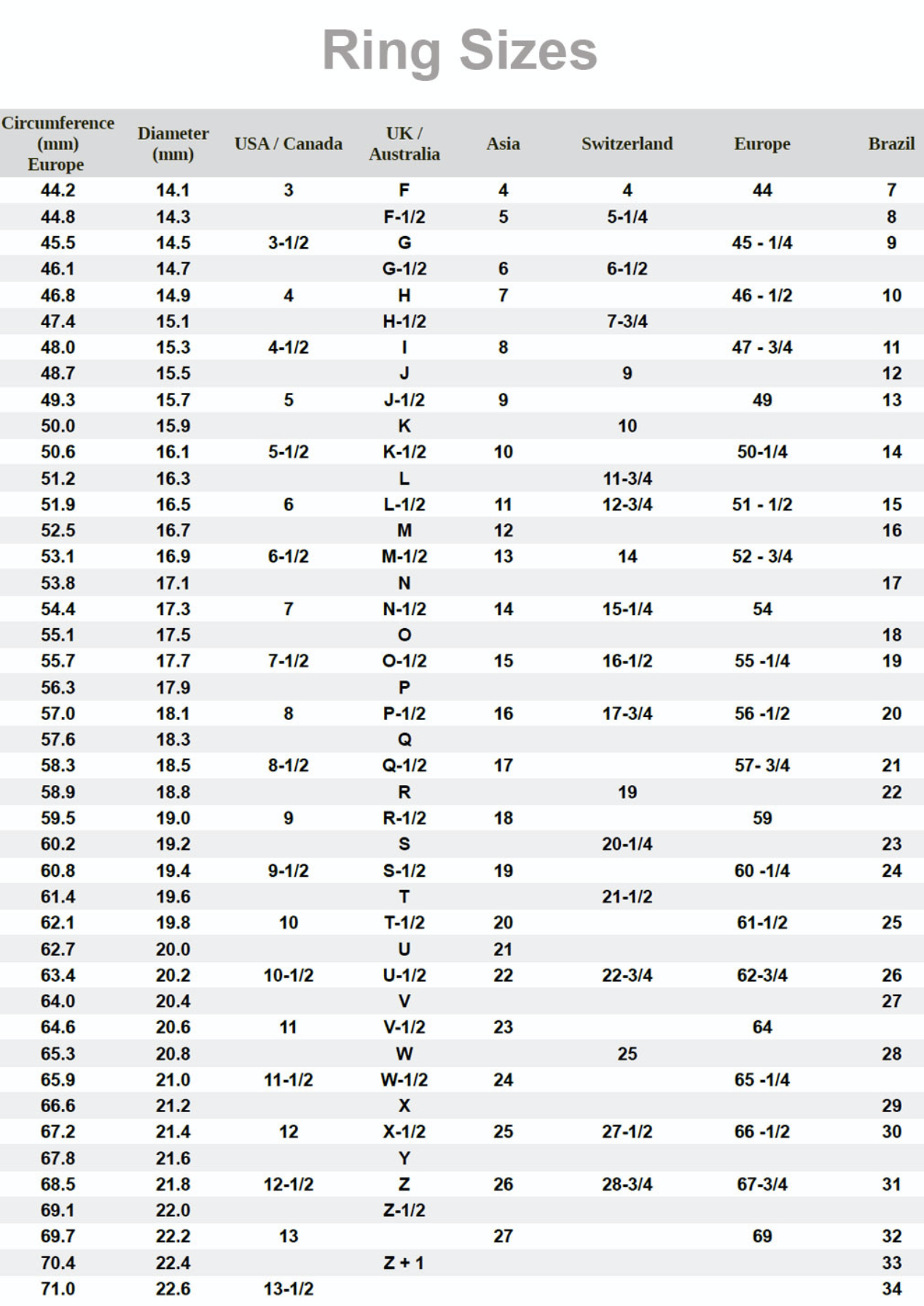 Before you make your order be sure that you compare your size and measurements to the official sizing guide of the website or store that you are buying from. Always go with their sizing measurements, even if it is different to the size you think you are, to make sure that you are getting the size you need. They will know their own products best after all. This is very important: if you are purchasing from an international source then always be certain that you make the conversion from your American size to the appropriate country's sizing using the international conversion guide we have provided, or their own conversion guide. Any discomfort in the ordering process should be easily handled by contacting the store directly and double-checking with a member of staff - we are always happy to help you with any questions about products and sizing here at the Giving Tree!
If, after all of this, you still aren't sure then just remember that resizing rings is possible and, in most cases, pretty easy if necessary. Before ordering just make sure that you are buying a piece where resizing is available. It is not ideal, especially if it is an engagement ring, but at the end of the day you would rather be able to send it back and get it perfectly resized than be stuck with something that is too big or too small. If you are comfortable financially and the shop you are ordering from allows returns, then you can always order the ring in two sizes and return the one that does not work for you or the person you are purchasing for (this is likely only an available option for jewelry at a more reasonable price point or bulk stores, not for fine jewelry).
Hopefully at this point you will feel more confident in your ability to measure your ring size at home and are able to choose the right fit for you. We are excited for you to be happily wearing your perfectly-fitting purchase in no time at all!