Once discovery of Spiritiles is made, it is a compelling world to emerse oneself in. Throught with positivity, endearing sentiments, and humanity at its finest, you be enchanted purusing all of the Spiritiles that have ever been made. Inevitably, you will stumble upon a Spiritile that is marked as "Retired". Hold the phone! What is this "Retired" business?? Well, it's likely you have an idea of what it implies, but today we're going to unpack everything you need to know about just what a Retired Spiritile is and what it means for you and your investment in the Houston Llew Spiritile collection.
For those looking for a comprehensive overview of Houston Llew Spiritiles, head over to this page to discover more.
ESSENTIAL RETIRED SPIRITILE INFORMATION
First, we'll start with some important information you may have noticed displayed on each Spiritile's page, located alongside the main image to the right. They are as follows: Status, Availability, Production Dates and Release. These are fairly self explanatory, but essential bits of information that are to be considered when understanding the value of a particular Spiritile.
Status will tell us if it's currently being produced,
Availability assesses how likely we'll be able to get it,
Production Dates show us when it was being produced and
Release showcases when it made it's debut.
When looking at a Spiritile's STATUS, it will appear as one of the following: Active, Limited, or Retired.
Active - currently being produced;
Limited - currently being produced but with a communicated end date
Retired - no longer being produced.
This is found here: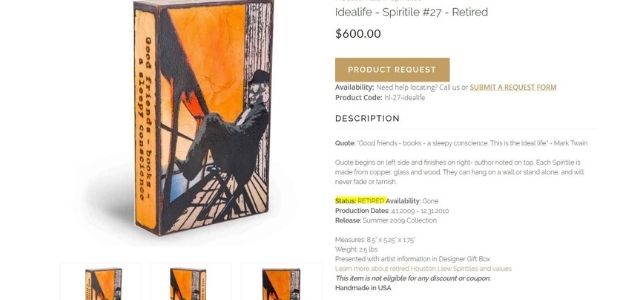 The next important piece of information displayed is: Availability.
AVAILABILITY designations, are just that: how available is this Spiritile? In order of scarcity, we have: Limited, Rare, Very Rare, Nearly Gone and Gone. This info is found here:
Because Retired Spiritiles are no longer being produced, their stock is limited and the piece is thus much more valuable. In fact, upon its retirement, the value of a Spiritile increases to about $200. As a Retired Spiritile continues to sell through the marketplace, its value invariably increases. This is where the exclusivity comes in; the fewer there are available, the more expensive the piece becomes. Houston Llew's unique creation process means that the Spiritiles themselves will never fade or degrade, so they will not only hold their beauty, but their value, through generations.
The key here illustrates the market value based on the availability on a sliding scale - as some Retired Spiritiles are more sought after than others.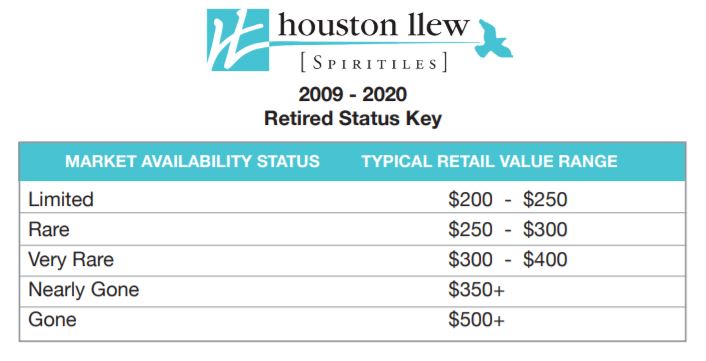 The next two bits of info - Production Dates and Release - are also valuable tools to determine value and go hand in hand. The Production Dates give the date range of production, so you'll not only be able to see when it stopped being produced, but how long it ran. Also important to note, is that the date range is often predetermined by when a Spiritile made its debut. Let us pause and take a moment to explain something.
Every year there are 4 releases - Winter, Spring, Summer and Fall - and anywhere from 3 - 6 Spiritiles are included per release. In addition to these four seasonal releases, there are one-off releases, that happen sporadically, and these tend to be limited. The limited Spiritiles increase in value more quickly, as their production run window is much smaller than the Seasonal releases.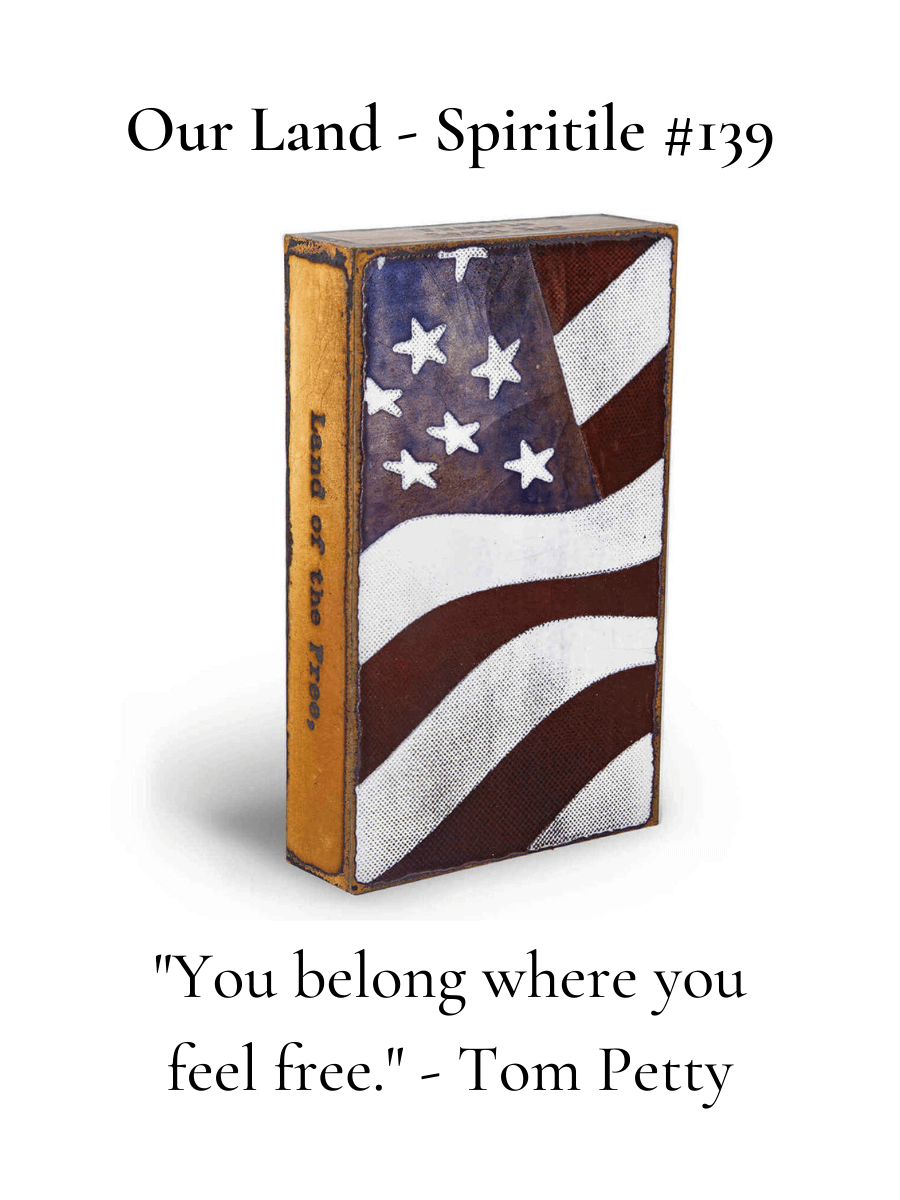 Take, for example, Spiritile #139 Our Land, which ran from 6.7.2013 - 8.2.2013 as a 4th of July commemorative piece;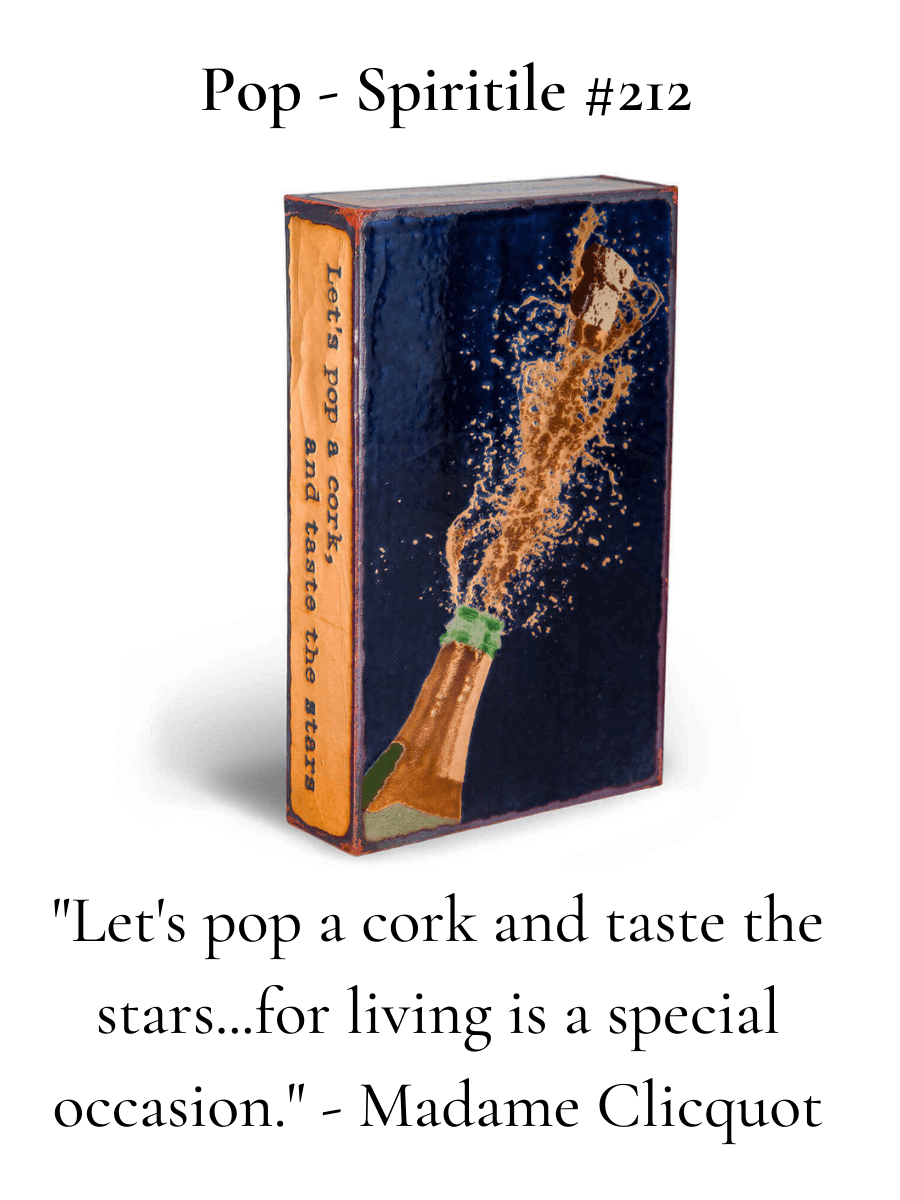 or Pop Spiritile #212, which ran from 12.5.2017 - 12.31.2018 as a special New Year's Tile,
or any of the Holiday Spiritiles - which debut early November and run through December 31st.
The Holiday Spiritiles are coveted Spiritiles, as they're highly anticipated oh-so collectable. Their story always rejoices in the real reason for the season and helps kick off the holiday season every year.
Be sure to get yours - as it is most definitely sure to appreciate in value quickly.
Now that we've oriented you with the essential bits, let's move on to some practical pieces of information.
PRACTICAL AQUISITION ADVICE
Let's say you've fallen in love with a particular Spiritile that has been marked as Retired, and you need it now! As we've already illustrated, it may be available. Check out our "In Stock Retired Spiritile" collection right here to see if we have it in stock, ready to ship . To find this on your own - go to the Houston Llew main page, and select the filters on the left side. Shown here: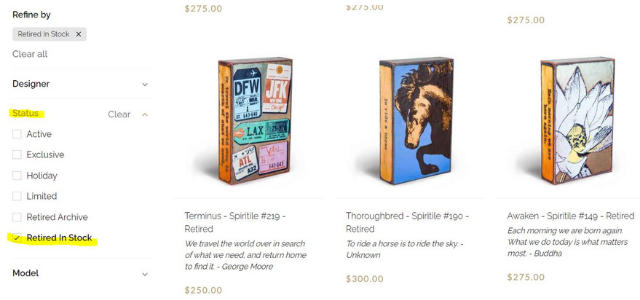 OK, so then what happens if it's not there?
We've got your back. We have connections.
If you see a "PRODUCT REQUEST" / "Submit A Request Form" in place of an "Add to Cart" button,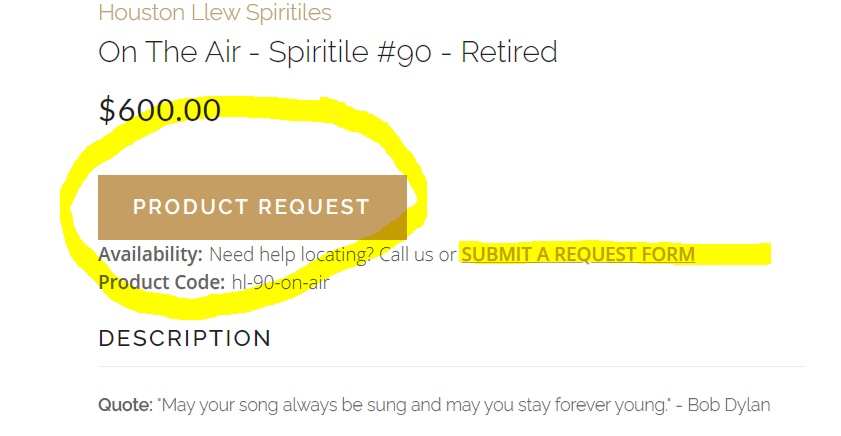 it means that while we don't have it in stock, we are ready and willing to go on a hunt to find it for you! We have a network of Spiritile enthusiasts that we are in constant contact with. We have had luck finding even the rarest of rare Retired Spiritiles! Put us to work, we are here to assist you! We will do our best to try and locate the piece for you. If you're a beginning collector, avid collector or simply just want the Spiritile of your dreams, we can help!
So why is it, then, that Houston would even retire a beloved Spiritile creation to begin with?
Houston is motivated to retire Spiritiles in order to keep the entire collection evolving and alive. With every new collection that he creates, he chooses to retire others to ensure that the collection remains relevant and thriving. Sometimes it is simply because he wants to revisit a piece with fresh eyes and fresh artistry. He may decide to create a new Spiritile in a similar vein as an existing design and then retire the prior Spiritile in order to start fresh on the idea. Retirements also offer the chance for exclusivity of ownership, literally being one of only a number that have been created. It is a great motivator for collectors and devoted followers to snap up pieces.
When are Retirements announced?
HEADS UP:
Keep an eye out for announcements twice a year - once in the winter (late December/early January) and again in the Summer (late July/early August). If you see that a piece you love is going to be retired, that's a fantastic time to get the jump on ownership!
BOTTOM LINE: Do you see a Spiritile you like?? GET IT! It may not be around forever and if it is retired it may well be VERY expensive by the time you go to get your hands on it.
View our Retired section to see current values.
Get to know your investment: learn the value of all Spiritiles ever made as of August 2020. Download this PDF here.
Have a retired Spiritile that you want to trade in or sell? Let us know. We will help you if we can. Reach out to us here.