Moon and star jewelry is one of those things that is perennially on trend. Something about the celestial universe has us all a little bit enamored, even more so when it's featured on something wearable and covered in diamonds! Interested in learning more about the meaning behind Moon and Stars Jewelry? Read up on the history of it here. Otherwise, continue on and see our top picks of the very best moon and star jewelry to help you find the perfect piece, or you could just stare at them for a while -- they're that good!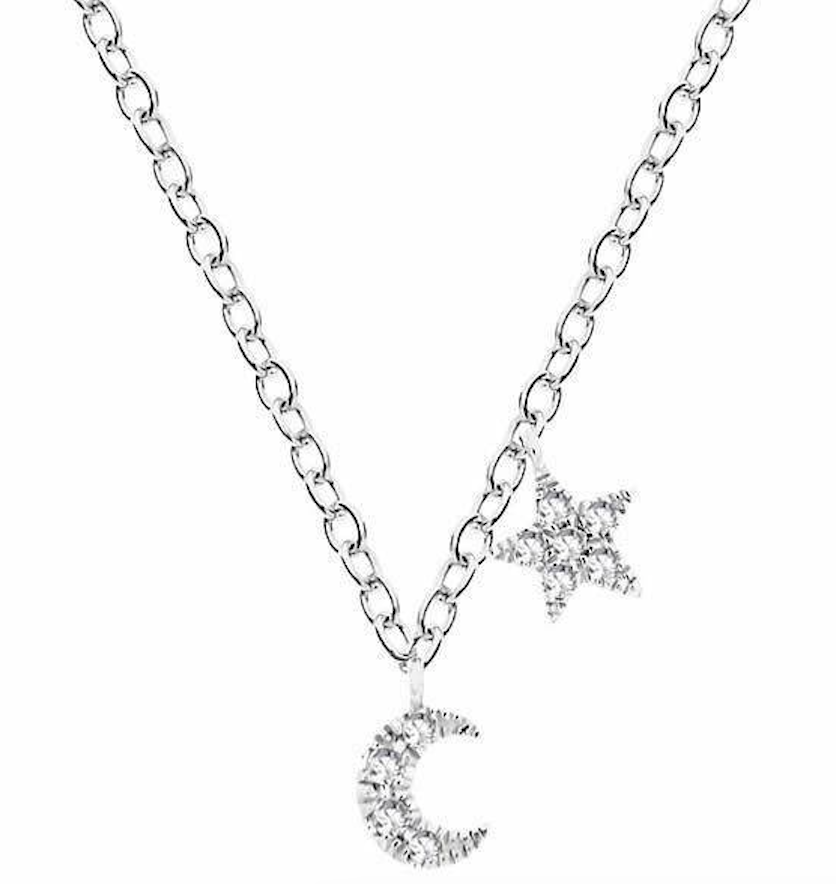 1. MINI MOON & STAR DIAMOND NECKLACE
This effortlessly wearable miniature crescent moon and star necklace from Meira T is composed of shining 14KT white gold and glittering diamonds. The 16"-18" chain hosts two tiny pendants; a dazzling crescent moon at the center and an equally vibrant little star off-center (stage left), as is Meira T's signature style.
Add a touch of celestial elegance to those ears with these stunning diamond and 14KT white gold earrings by Liven Co. This set features charmingly mismatched pave post studs, one shaped like a crescent moon and the other like a star. Versatile and always in style, these earrings add a sweet sparkle to every look.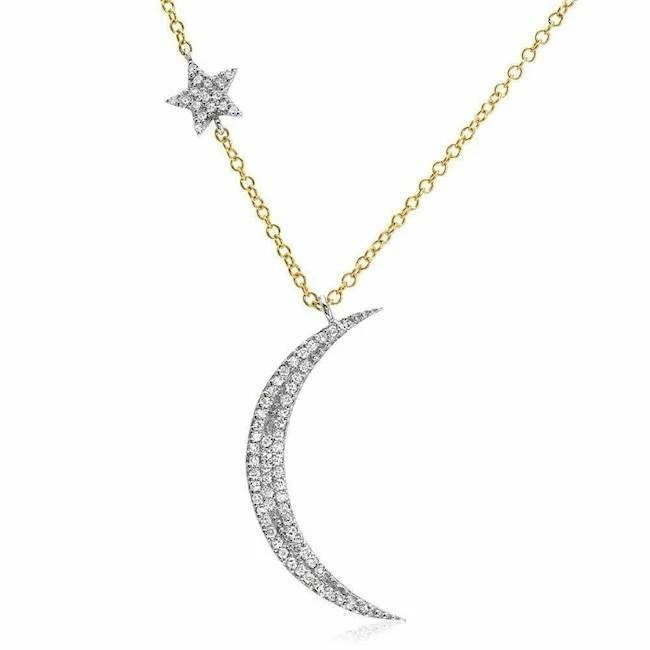 3. CRESCENT MOON & STAR NECKLACE
Bring some big astrological energy with this bold necklace from Liven Co, featuring a stunning inch-long, diamond studded, crescent moon at the center and accompanying diamond star (asymmetrical, stage left). The moon and star pendants are composed of 14KT white gold and diamonds, while the chain is in a contrasting 14KT yellow gold. The mixed metals increase the modernity, wearability, and intrigue of this already amazing piece.
This crescent moon and star ring from Meira T is as special as it is beautiful. An open band has a large crescent moon on one side and a 5-point star on the other. That open band makes for a truly unique composition, while the sparkling diamonds capture light at every angle. An instant classic that will surely collect the compliments.
5. MOON & STAR DIAMOND NECKLACE, WHITE GOLD
This one has a little extra twinkle, appropriate for a celestial themed piece! A central 14KT white gold, pave crescent moon pendant is accompanied by a five pointed star and two solitaire diamond pendants attached asymmetrically (stage left). All 4 pendants hang on a 14KT white gold chain. Meira T's signature asymmetry makes her pieces instantly recognizable, and their versatility means you can throw them on and forget about them.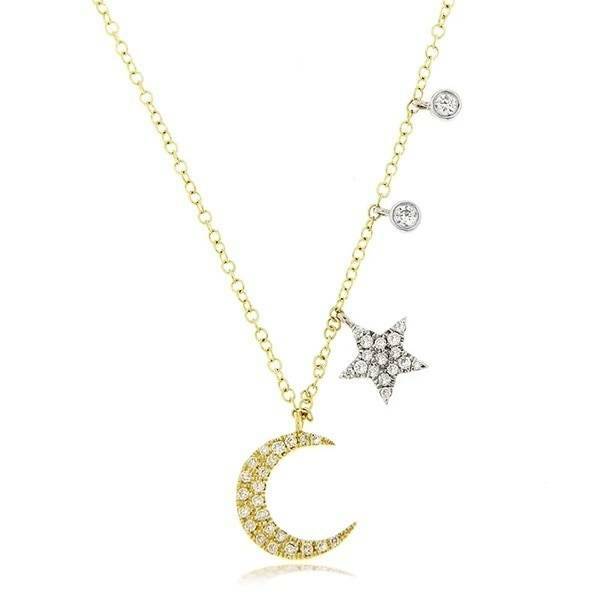 6. MOON & STAR DIAMOND NECKLACE, YELLOW GOLD
A fresh color theme for the perennially beautiful piece described above. In this case, the central diamond encrusted crescent moon is 14KT yellow gold and hangs on a matching 14KT yellow gold chain. The accompanying diamond star pendant and two solitaire diamond pendants are 14KT white gold, adding some extra interest to an already enthralling piece.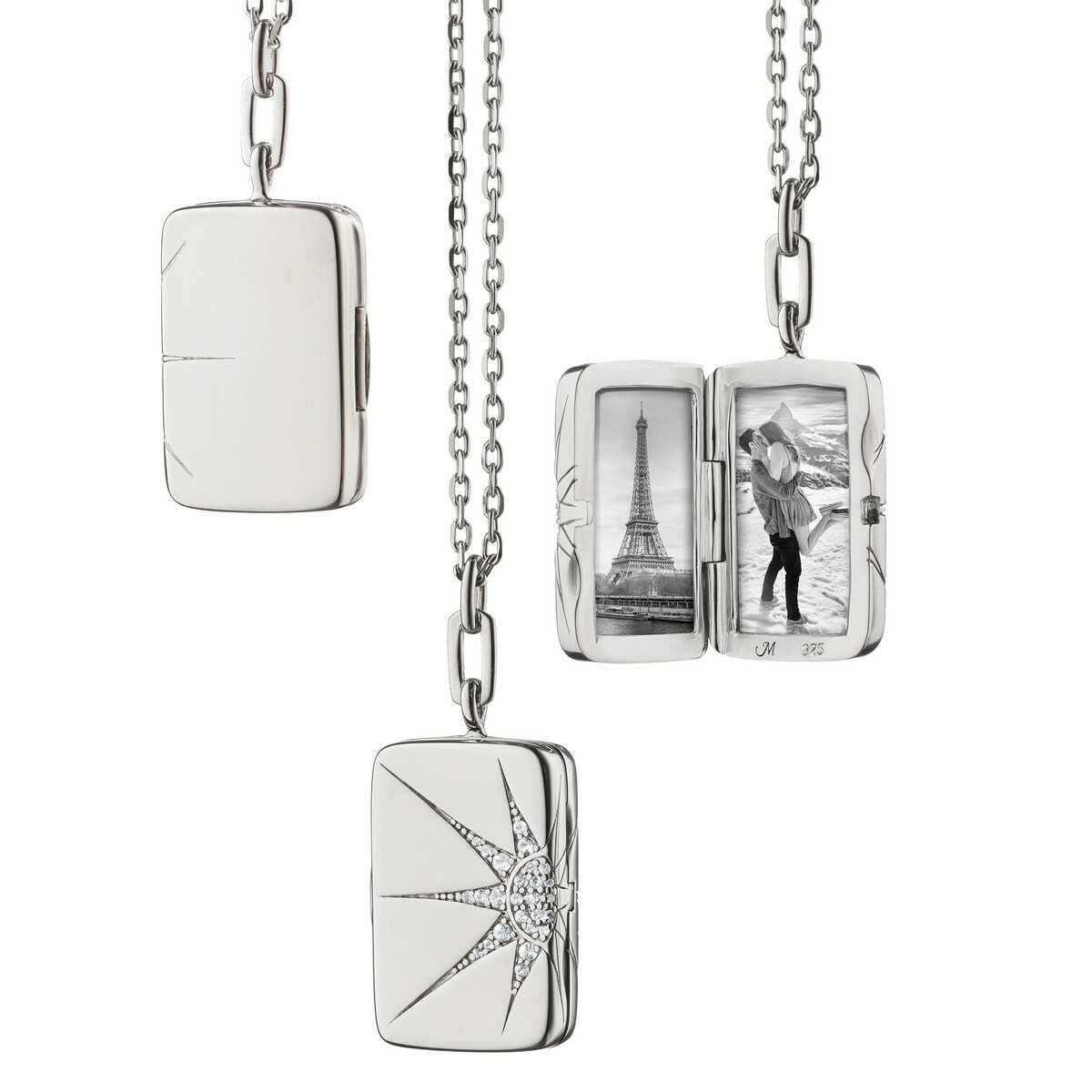 7. SUN & STAR LOCKET W/ SAPPHIRES
An exciting take on the celestial jewelry theme, this sterling silver locket has an engraved sun/star symbol that is set with twinkling white sapphires. The locket is 1" x ½", the perfect size to capture special moments and carry them with you each day. The 32" diamond cut chain makes it the perfect piece for layering.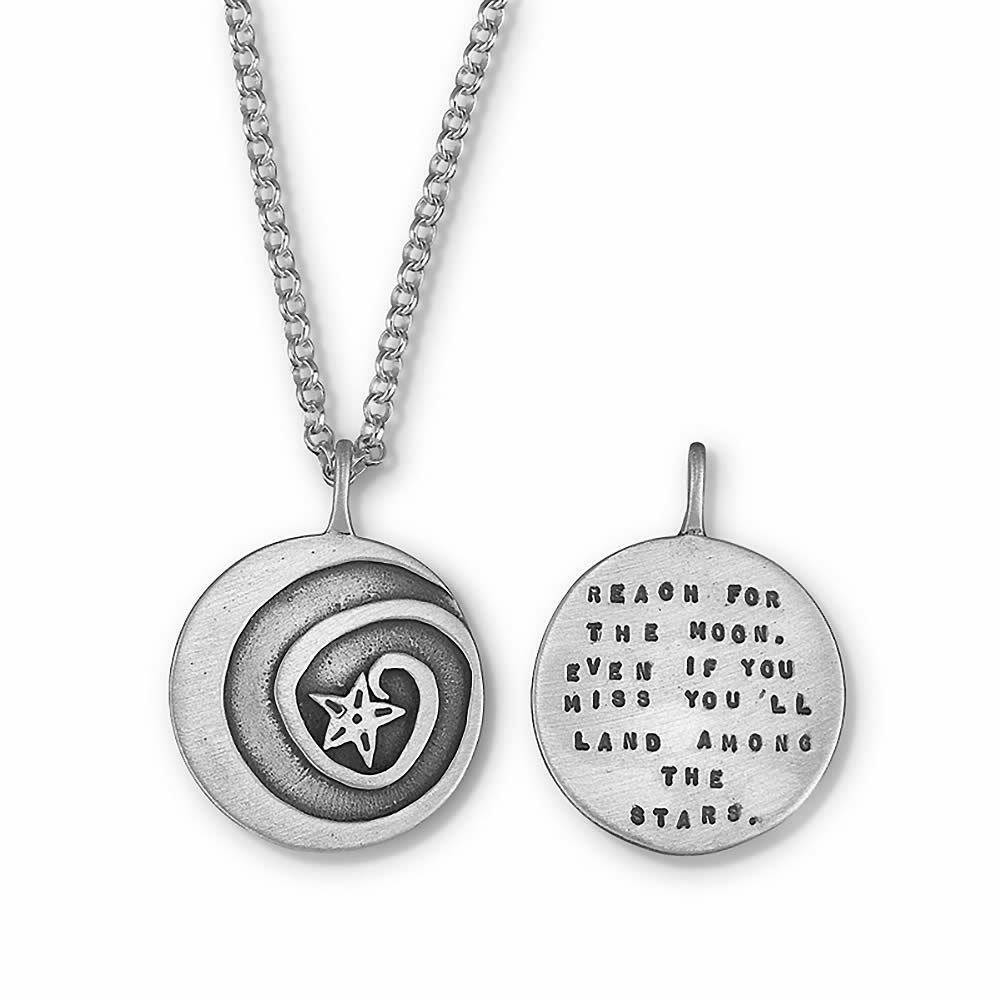 8. REACH FOR THE MOON QUOTE NECKLACE
The hand stamped pendant on the Reach for the Moon necklace is what makes it so exceptional. The ¾" sterling silver pendant is stamped with a swirl and a sketch-style star at the center on the front, while the back is stamped with the quote, "Reach for the moon. Even if you miss you'll land among the stars." The 20" sterling silver rolo chain makes a subtle backdrop to host the message on this lovely celestial necklace.
9. SUN, MOON & STARS GATE LOCKET W/ SAPPHIRES
Just when you think you've seen it all, something like this comes along and takes your breath away. This sterling silver locket pendant is actually three separate elements that come together; the front has a crescent moon and star set with beautiful white sapphires that you can see through to the back two, that hold two pictures and are etched with a sun flare pattern. An 18" sterling silver Belcher chain makes this piece perfect for layering and really puts an exclamation point on this gorgeous necklace.